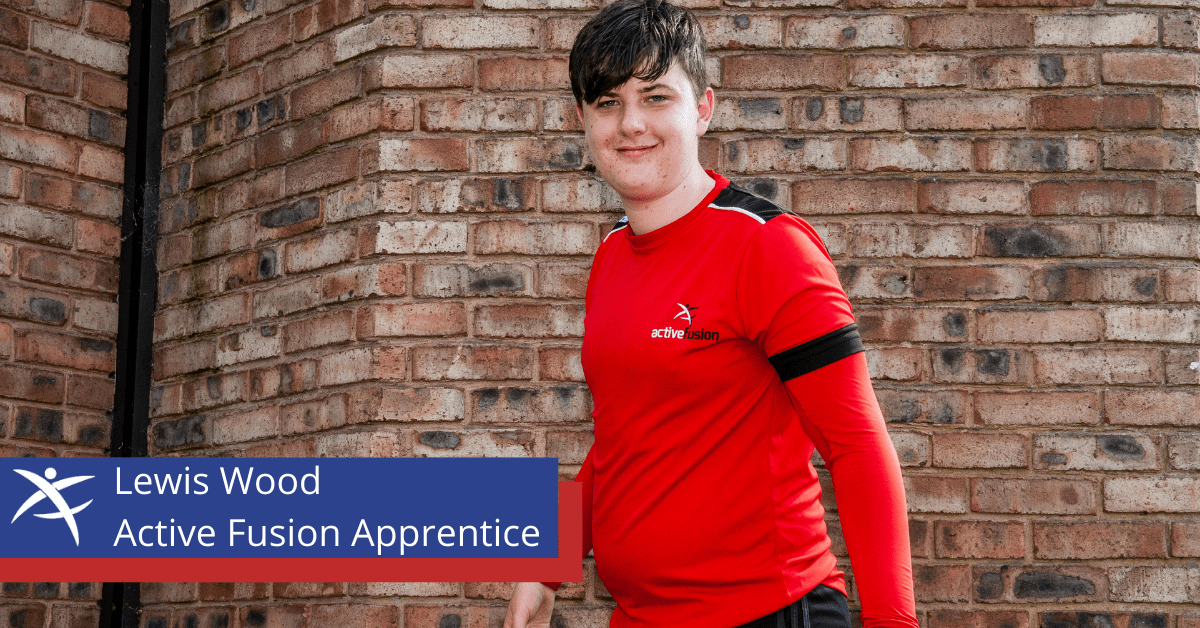 Volunteering on camp made me want to be an Active Fusion apprentice
With the new academic year finally here, a brand-new cohort of Active Fusion apprentices are undergoing the start of their journeys in the world of PE coaching and education. 
It is never an easy decision to decide what to do upon completion of GSCEs, A-Levels or College courses. For Lewis Wood, that decision was made, until the impact of working on the Active Fusion Summer Camp changed his mind.
The new apprentice, who could have easily been packing his things to move to university as we speak, had a change of heart after spending his summer volunteering as a coach on the Summer Staycation programme.
He said: "I originally was going to go down the university route and study exercise, sport and nutrition at the University of Huddersfield.
"I had my placed guaranteed and everything. But during summer, I was informed that Stephen (Active Fusion coach) was looking for volunteers for the summer camps and I signed up to do that.  
"I went to the camp and it completely changed my perspective; I didn't want to go to university anymore, I wanted to coach in school. 
"So, I applied for the apprenticeship with Active Fusion and fortunately secured my place." 
A passion to succeed
Lewis has always had a passion for sport and completed a diploma in sports, exercise and coaching on the education programme at Reds in the Community, which he studied for two years. 
Passion always comes from somewhere, and this was no exception for Lewis, who started in the coaching sector at an early. He said: "My passion for coaching came from originally helping out at my brother's Sunday league team.
"I started off when he was at the under 9s and I really enjoyed it, so it all stemmed from there really. I enjoyed helping children develop into better players. You can always see when a kid improves and it feels nice when you get to see them flourish and continue their journey." 
Leading by example
His passion has already taken him so far, but the opportunity to be a part of the Summer Staycation programme has taken him that one step further on his personal journey. It has had a lasting impact on the new apprentice.  
He added: "I really enjoyed summer camp. I wanted to get up in the morning and coach children and have fun doing so.  
"I want to be a good role model and allow children to develop new skills and be better than they were yesterday.
"I want to show them that exercise and sport can be fun."
High expectations
Since confirming his apprenticeship, Lewis has outlined exactly what he wants to achieve with the charity over the next 12 months. 
He said: "I want to show Active Fusion and the school I'm based in exactly what I can do and what I want to achieve which is to see children enjoy PE.  
"I'm here to learn. Working alongside the Active Fusion coaches during the summer was really beneficial. It gave me a good idea on what to do when I start my apprenticeship.  
"I've become a better coach because of the summer camps. The experience and advice from working here has been tremendous." 
Lewis knows there will be plenty of challenges along the way, but sees this as a chance to develop and understand the environment. 
He added: "I think I can develop every aspect of my coaching. The biggest challenge will be dealing with behavioural issues. But working on camp has given me greater confidence to deal with certain issues and I'm looking forward to the challenge.  
"I want to get better and inspire to achieve bigger and better things." 
The impact of the summer camp
The summer camps saw 446 children from across Doncaster take part during the six weeks, which Lewis states he won't soon forget as he looks to make his mark on his apprenticeship. 
He said: "The camp offered children so much. Not just children, but coaches too.  
"If we can continue to help children and families get through this difficult time then hopefully we can start to have an even greater impact in Doncaster and beyond."
If you would like to hire an apprentice like Lewis, click here.