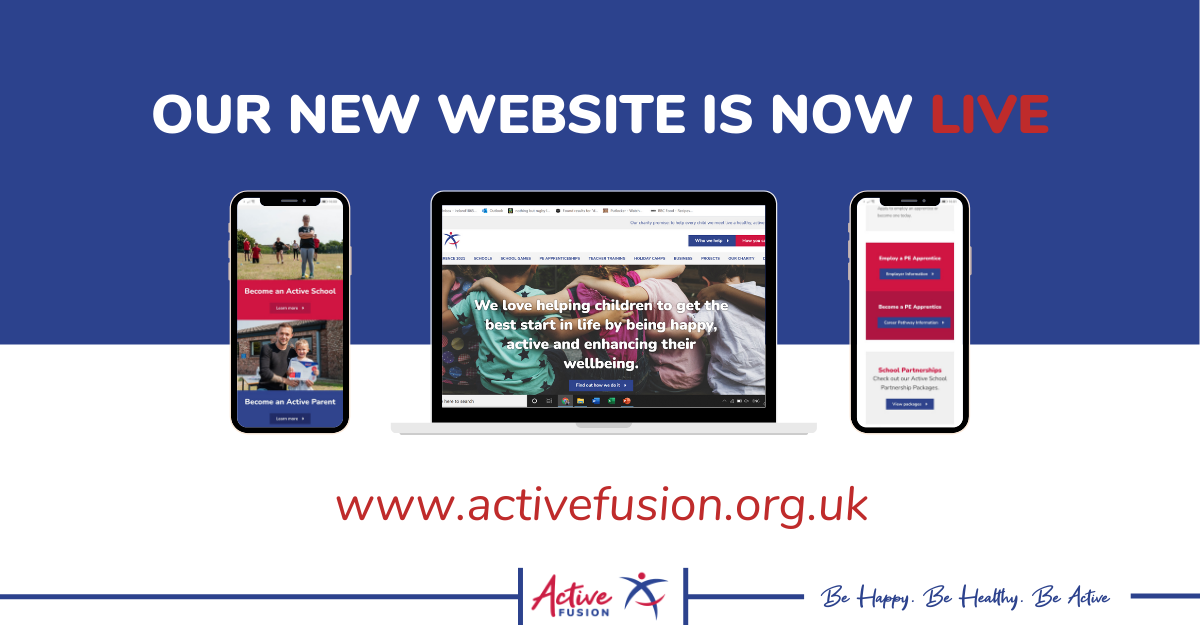 Our new website is live!
We are very excited to announce the launch of our newly designed website. 
After months of hard work and dedication, we are delighted to officially announce the launch of Active Fusion's new and improved website. Throughout this time, we wanted to make the new website faster, easier to navigate, and more user-friendly. 
Our goal with this new website is to provide our visitors with an easier way to learn about our charity, the services we provide and how we can keep children active in any circumstance. The new website gives better access to Who We Are, How We Work, Our Impact, Our School Partnerships, Our Apprenticeship Scheme and a new-look Business page, as well as an improved Events page. 
We hope you will find useful information about our services on the homepage of our website. The case studies, alongside our news section, will highlight the projects we have completed and outline the impact we are having in the field of education and sport.
Homepage
Our Impact
Our Charity
Business
Apprenticeships
Jack Ireland, Digital Marketing Officer at Active Fusion, said: "The new website has been designed to offer a clear, engaging experience for all visitors. Our homepage now offers a more vibrant welcome, with our school memberships, apprenticeship scheme and Active Parents pages all becoming easily accessible.  
"The navigation bar is also easy to access from our homepage and can take you to all the different areas our charity works in, including our projects, School Games and volunteering opportunities. We want to make sure people can find exactly what they need on our website, while also discovering a little bit more about us and our mission.  
"Our new events page, in partnership with Eventbrite makes it easier than ever to book onto our events and competitions. 
"We have worked with a local Empathy Led Branding, Philosophy and User Experience business, Attract, to create an inventive, quality website, that clearly displays who Active Fusion truly are. We are very grateful for their hard work to turn our vision into reality." 
"The new website has been designed to offer a clear, engaging experience for all visitors."
Among the new features, the site contains integrated social media buttons for Facebook, Twitter and LinkedIn to foster improved communication with all our audiences. We will be constantly updating our content with helpful information, charity announcements and news articles. You can also sign up for our termly newsletter.
We would also like to thank our amazing staff members who donated their time and energy to make this site what it is. For any questions, suggestions, feedback or comments, please contact us. 
Enjoy our new website! Click here to view our home page.