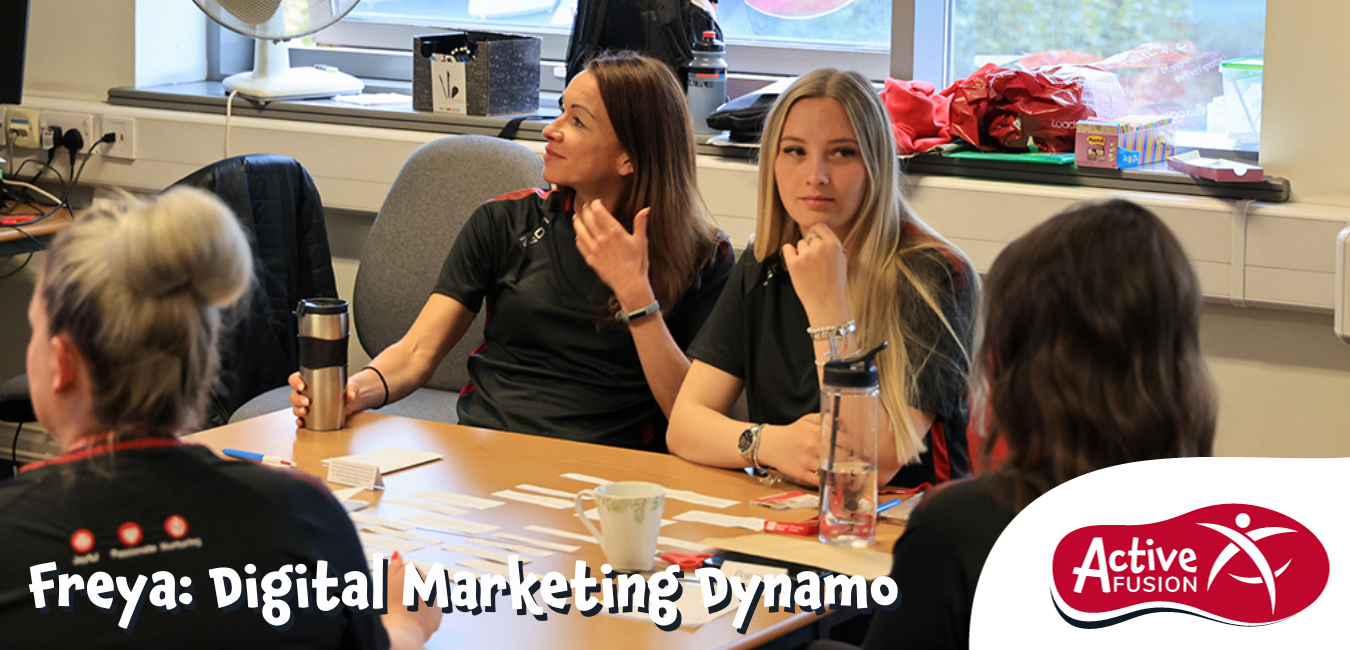 Behind Active Fusion's Social Media Success: Our Digital Marketing Dynamo
Meet Freya, the digital marketing superstar behind Active Fusion's social media wins. 
At the heart of Active Fusion, a charity dedicated to empowering youth through sports and community engagement, there's a young talent making waves and transforming their digital landscape. Meet Freya, the Digital Marketing Apprentice whose journey from a dedicated volunteer to a marketing maven has been nothing short of inspirational. 
Nearly five years ago, Freya stepped into the world of Active Fusion as a 14-year-old volunteer on our Fusion Camps. Her love for the charity and its mission to help every child to develop a love for being active was evident right from the start. As the years rolled by, her dedication to the cause only grew stronger. In 2022, Freya completed her Level 2 Community Activator Coaching Apprenticeship, marking the end of one remarkable chapter and the beginning of another. 
With an unwavering passion for sport, Freya decided to pivot her career toward the digital marketing realm. She embarked on a new journey as a Digital Marketing Apprentice at Active Fusion, determined to continue making a difference in the lives of young people through a different avenue. 
Since starting her Digital Marketing apprenticeship in September 2022, Freya has become nothing short of a success story. She has not only grown in confidence but has also developed her skills and professionalism at an impressive pace. Her day-to-day responsibilities mainly revolve around crafting unique and compelling content for Active Fusion's social media channels, and it's safe to say that she excels in this role. 
Thanks to her creative nature and her unwavering commitment, Active Fusion's brand performance across social channels witnessed a jaw-dropping 133.34% increase from September 2022 to September 2023. Impressively, our charity also experienced a staggering 383.13% increase in social media impressions during this time. Freya's creative flair and her dedication helped Active Fusion digitally reach over half a million people in just 12 months. 
Alongside the wider marketing team at Active Fusion, Freya recently helped propel the 10 More Years campaign, a 10-week appeal to raise awareness and funding to help deliver on our charity promise to children. Active Fusion successfully raised a total of £11,100.14 and reached over 10,000 views on our campaign film. Due to the success of the campaign, 10 More Years has been shortlisted for 'Marketing Campaign of the Year' at the Doncaster Business Awards this December.  
But Freya's journey doesn't stop here. She's set her sights on expanding her horizons, this time delving into the world of creative writing. Her ambition is to take on the storytelling of the charity's impact on our beneficiaries, ensuring that the stories of transformed lives reach an even wider audience. 
Freya's journey from a passionate young volunteer to a Digital Marketing Apprentice who has revolutionised the way Active Fusion reaches its audience is nothing short of inspiring. Her story reminds us that dedication, hard work, and a commitment to a cause can lead to remarkable transformations and the ability to touch the lives of many. Active Fusion's digital future looks brighter than ever, thanks to Freya's creative spark and unwavering dedication to our cause. 
You can follow Freya's journey and explore her content by following Active Fusion over on our social media channels.  
"It has been wonderful to watch Freya grow in her new role within the charity. Her creative flair for digital marketing shares our story brand and amplifies our case for support daily, with youth voice at the heart. I look forward to seeing her develop our digital assets further this year as we lead on our fight for the power of sport in young lives." 

– Becky Rose, Deputy Director of Active Fusion