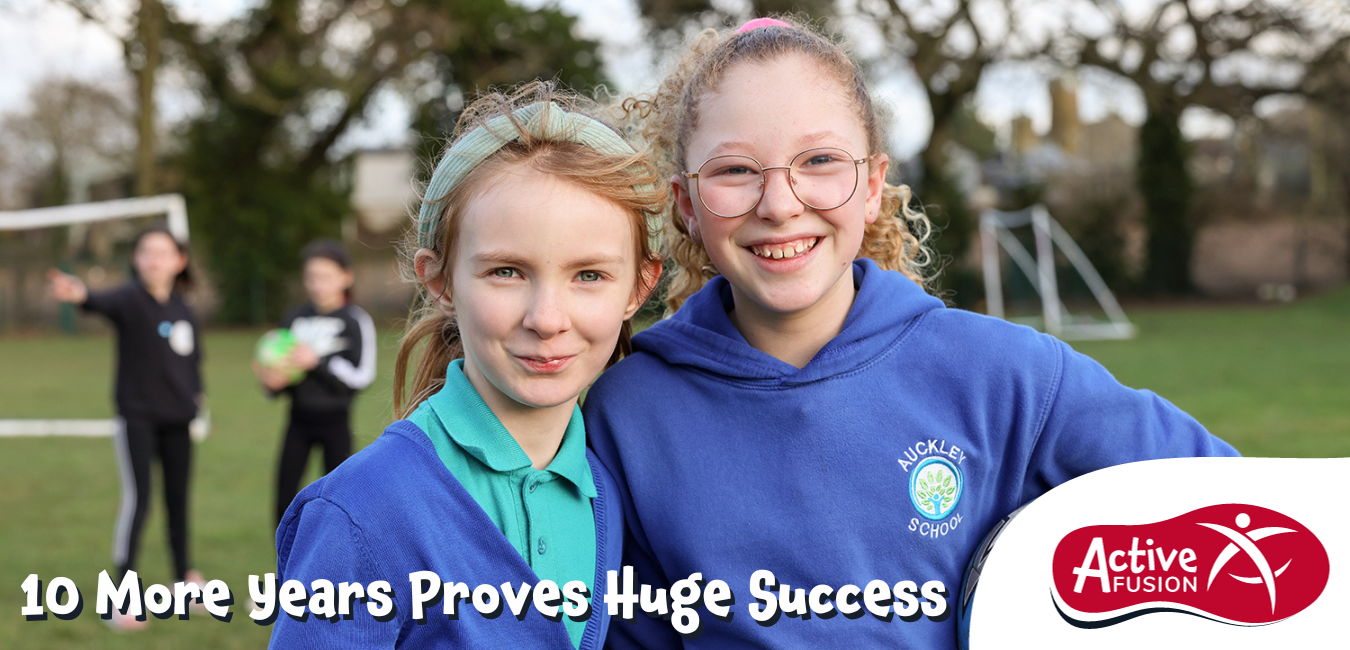 Active Fusion's 10 More Years Appeal Proves Huge Success
Active Fusion launched their 10 More Years appeal in April to raise awareness and funding to help deliver on their charity promise to children. 
Too many children and young people, specifically those living in poverty, do not get access to the required hours of physical activity essential to a healthy childhood.  
With reduction in funding, time in education and lack of free provision in communities amplified by the cost-of-living crisis, this situation is exacerbated, leaving many children in situations of physical and mental ill health.  
As a charity, Active Fusion use the power of sport and physical activity to lobby for change and equity for all children to be active. Their charity first mission sets out a promise to address this tsunami of inequality, with the Fusion Movement Campaign fully focused on doing exactly that. 
Active Fusion's ambitious target was to raise £10,000 in 10 weeks, reaching 10,000 views of the 10 More Years campaign film to raise awareness of the issues faced by our most vulnerable children and young people. 
Thanks to the incredible support from the community and generous donations from organisations such as Caddick Construction, Venatu Recruitment, EE and HSR Law, Active Fusion successfully raised a total of £11,100.14 and reached 10,034 views of their 10,000 target on the campaign film. 
Managing Director at Caddick Construction Group, Paul Dodsworth commented: "Active Fusion is a fantastic example of what can be achieved when people come together for a good cause. We hope our donation will help this brilliant local charity and we urge anybody in the position to do so to make a donation via the website." 
Becky Rose, Deputy Director of Active Fusion, added: "Support from business and our fundraising community for the 10 More Years campaign has been overwhelming. Whilst this campaign may have now ended, we still need your support to help children develop a love for physical activity, unlock their potential and be the best they can be. With the generous support of our donors and funders, we ensure sport and physical activities are accessible to all children and young people. It simply wouldn't be possible without the support we receive." 
Fresh of the back of the campaign, Active Fusion have been named as a Finalist in the 'Campaign of Year' category at this year's prestigious 25th Doncaster Chamber Business Awards.  
You can find out more about the 10 More Years appeal here or donate directly to the charity here. By choosing to support Active Fusion, you are helping children and young people across south Yorkshire to thrive not just survive cost of living crisis. The money you raise will make sure these children and young people are safe, happy and healthy, so they too can 'Be the best they can be' for life! 
You can find out more about the charity's impact here.