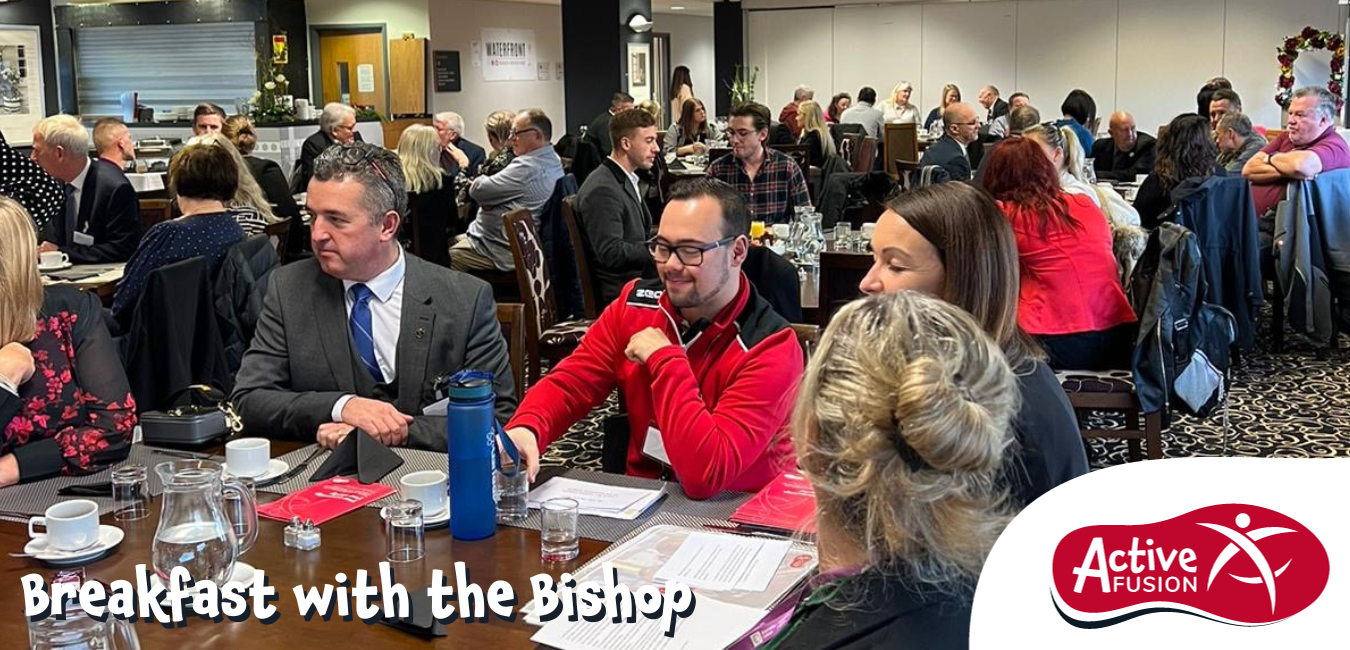 Active Fusion Takes Centre Stage at Breakfast with the Bishop
Active Fusion highlights their impact and vision for healthier futures at Breakfast with Bishop event. 
Active Fusion, a leading charity dedicated to promoting the positive impact of sports and physical activity on young lives, played a pivotal role at the recent Breakfast with the Bishop event held at Doncaster College on Wednesday 15th November. 
Hosted by Bishop Sophie Jelley, the event brought together a diverse group of individuals committed to fostering positive change in Doncaster's most vulnerable communities. Attendees were treated to a delicious breakfast prepared by the talented staff and students at Doncaster College and had the opportunity to hear from inspirational speakers. 
Among the prominent figures at the event were Active Fusion's Director, Lindsy James, and Assistant Coach, Ben Sweeney. They took the stage to shed light on the impactful work that Active Fusion carries out in the South Yorkshire community and shared their plans for furthering their mission. 
Active Fusion are on a mission to make a compelling case for the role of sports and physical activity in shaping the lives of young individuals. Our charity directly delivers high-quality sports and physical activities to children and young people, offering critical support in education, community leadership, and career development. 
During the event, Ben delivered a powerful presentation, emphasising the stark connection between poverty and the health and well-being of children in Doncaster. He highlighted alarming statistics indicating that many children in South Yorkshire fail to meet the required hours of physical activity crucial for a healthy childhood. 
With a reduction in funding and time allocated for physical education in schools, this situation is further exacerbated, contributing to physical and mental health challenges among the youth. Sweeney underscored the plight of children in disadvantaged communities who lack access to nearby physical activity opportunities. 
Ben's presentation brought attention to the concerning trend of a potential decrease in life expectancy for the current generation of children, particularly those in poverty. The gap in life expectancy between children in poverty and their more affluent peers is close to 10 years, painting a grim picture of inequity that Active Fusion is determined to address. 
Active Fusion's Director, Lindsy James, highlighted the charity's reliance on the generosity of individuals, businesses, and organisations to continue their impactful work. She emphasised the urgent need to reverse the current health crisis affecting children and families, asserting that Active Fusion is fully committed to making a difference. 
Since its registration as a charity in 2017, Active Fusion has been tirelessly supporting children, young people, and families in making positive changes to their lives. Our charity's dedicated team of employees and trustees has played a crucial role in transforming the lives of over 25,000 children and young people annually. 
Active Fusion expressed gratitude for the support received from generous individuals, companies, trusts, and foundations that make their vital work possible. As our charity gears up for its upcoming Big Fusion Give campaign, we encourage the community to learn more about our impact and ways to we can all contribute to creating a healthier, happier community.
To find out more about Active Fusion's impact and how to support our upcoming Big Fusion Give campaign, head to our website now.