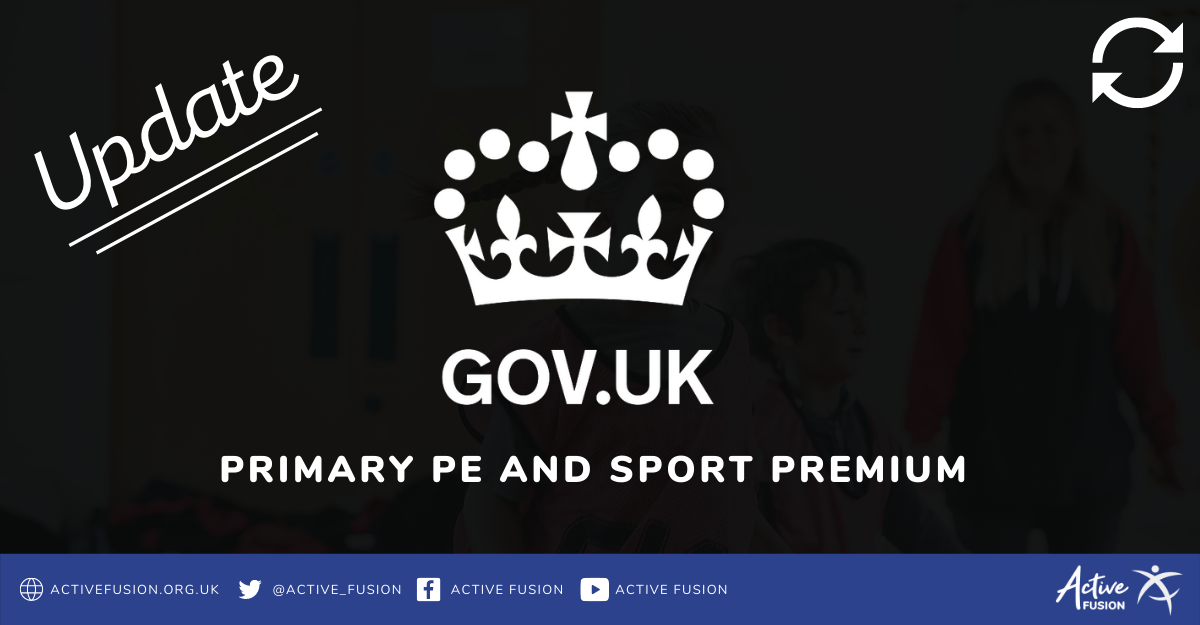 Primary PE and Sport Premium – Update
Active Fusion have released the following statement regarding the current situation on Primary PE and Sport Premium.
'As an education charity, we remain aware of concerns around the ongoing uncertainty linked to the Primary PE and Sport Premium and are continuing to work hard to influence decision-makers on behalf of schools, teachers and pupils everywhere.
We would like to remind all schools that their 2019/20 and 2020/21 sport premium must be allocated and spent by Saturday 31st July 2021.
To ensure that you continue to use your premium to create a meaningful impact and enhance PE and wellbeing throughout your school, please get in touch with us by emailing our head of operations, Jonny.'
𝐓𝐡𝐞 𝐄𝐟𝐟𝐞𝐜𝐭𝐬 𝐨𝐟 𝐋𝐨𝐜𝐤𝐝𝐨𝐰𝐧

It is fair to say that children were affected during lockdown😢 @SchsActiveMment's survey proves that!

For #MentalHealthAwarenessWeek let's start to put these worrying stats right!

𝙇𝙚𝙩'𝙨 𝙘𝙤𝙣𝙛𝙞𝙧𝙢 𝙎𝙥𝙤𝙧𝙩𝙨 𝙋𝙧𝙚𝙢𝙞𝙪𝙢 pic.twitter.com/G1NHfoDZGN

— Active Fusion (@Active_Fusion) May 10, 2021
There is now a new template for reporting on the Sport Premium, which you can find by clicking here, or by visiting Primary PE & Sport Premium – Youth Sport Trust.
About Active Fusion
We are a charity based in Doncaster striving to enable children and young people in Yorkshire to be physically active.
Young people in Doncaster and across the UK are facing diminishing levels of mental and physical health. Exercise is proven to enhance fitness levels and improve mental health, however, young people in our region are not achieving the recommended amount of daily physical activity.
We're striving to buck this trend by delivering high quality Physical Education lessons in schools, by training teachers and school staff to become more confident and proficient in their teaching of Physical Education, through holiday sports camps and by giving young people the opportunity to enhance their qualifications, confidence and communication through sports leadership and apprenticeship opportunities.