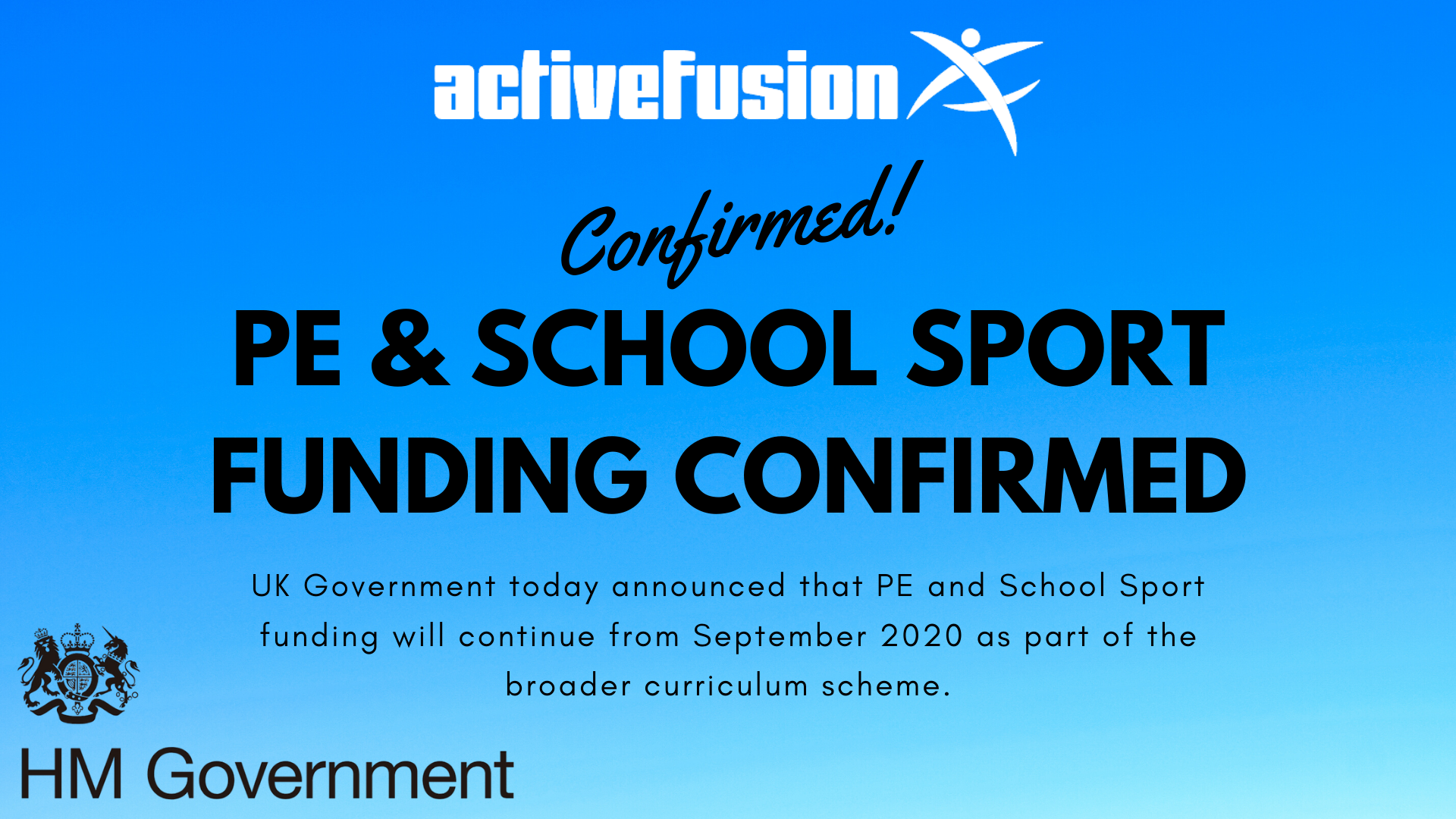 Primary PE and Sport Premium confirmed by Government
After the continued support of some of the nation's biggest sports stars, the primary PE and sport premium funding has been confirmed by the Department for Education. 
A statement made by the Education Secretary, Gavin Williamson, stated that the funding has been confirmed at £320 million for the 2020/21 academic year.
Sir Mo Farah, Alex Danson, Lawrence Dallaglio are just some of the famous names to show support for physical education and activity in primary schools, stating how PE changes lives.
An open letter calling for the Government to guarantee its primary school sport funding continued to gather overwhelming support in the days building up to the decision, with Active Fusion among many sport and education-based charities involved in the letter, who are now delighted with the response. 
Lindsy James, Director of Active Fusion, commented: "We are delighted that the PE and School Sport funding has been confirmed.
"Now essential planning for next academic year can take place for schools to enable them to make the best choices for providing high quality Physical Education, professional development, competitive opportunities and the overall physical health and mental wellbeing of children and young people." 
The PE and Sport Premium, which is largely funded by the Sugar Tax, is crucial for the development of young people, with Commonwealth gold medallist and Active Fusion Ambassador Craig Heap stating "it would have been a tragedy for our young people if the funding was cut." 
More than 100 sportspeople, including Olympic, Paralympic, World, European and Commonwealth champions, signed the open letter to Government, which asked for immediate certainty on the funding.
The announcement follows alarming new research which shows that one in 10 children have been getting no daily activity during lockdown, something Anne Elliot, Senior Executive Principal at DELTA Academies Trust, does not want to see remain.  
She said: "The benefits of physical activity on every aspect of a child's development are well researched.  
"Developing good habits in childhood will inevitably have a huge benefit through adolescence and into adulthood. Sport premium funding has enabled all schools to widen access and raise the profile for all pupils. 
"Access to a rich curriculum offer around physical activity will be critical to their recovery in the immediate future and over the longer term.  
"An announcement on sport premium funding before the summer was vital in order to enable school leaders to plan to deliver an offer which is vital to the health and wellbeing of all our children." 
The Premium is designed to help children get an active start in life, supporting primary schools to improve the quality of their PE and sport provision so that pupils experience the benefits of regular exercise from becoming healthier both mentally and physically to improved behaviour and better academic achievement.
The funding is a ring-fenced grant for English primary schools to provide additional and sustainable improvements to the quality of PE, sport and physical activity. Allocations to schools are determined by a formula based on pupil numbers. The average one form entry primary school will receive roughly £18,000 per year
Active Fusion will continue to use their skills and expertise in the PE and coaching sector to focus on the professional development of primary school teachers across South Yorkshire, as well as making sure children receive the best possible opportunities to be physically and mentally healthy through a range of new and exciting programmes.