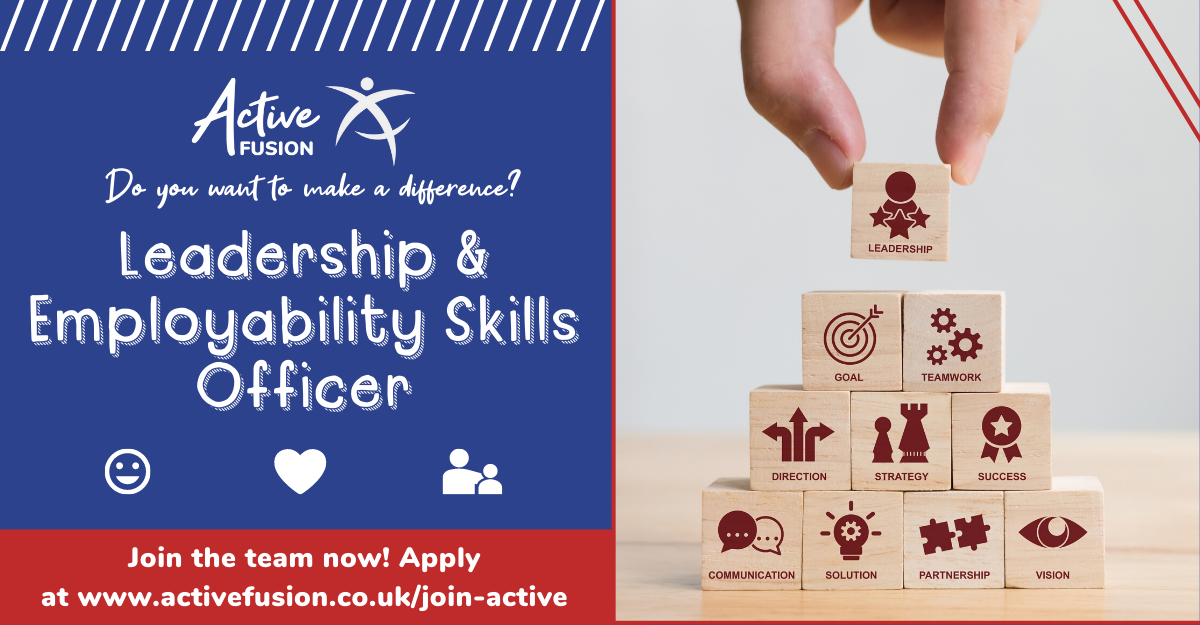 Vacancy – Leadership & Employability Skills Officer
Active Fusion are seeking to appoint a passionate and motivated Leadership and Employability Skills Officer. This is an exciting opportunity to join a charity that makes huge and positive strides in improving children's lives.
If you have experience of working with schools and local communities by helping people gain the skills, knowledge and confidence to reach their full potential and would like to work as part of an ambitious, energetic, and dedicated team, this role could be for you.
As well as delivering in schools and community settings we will also invest in your professional development ensuring you can be the best version of yourself.
You need to have the ability to plan engaging and inclusive progressive lessons ensuring all children are challenged at the right level.  Have knowledge and understanding of assessments and be able to work independently as well as part of an energetic team.
The Details
Working Hours: 37 hours a week
Closing Date: Thursday 26th August 2021 at 12:00
Interview Date: Thursday 2nd September 2021
Start Date: As soon as possible
Main responsibilities
Building relationships with young people and understanding their needs, so we can
begin to empower them to change their futures, through physical activity and sport.
Developing and delivering leadership programmes, essential life skills and employability opportunities through sport and physical activity.
Elevate the voices and champion the skills of children and young people to play a leading role in reducing the inequalities they face.
Developing a leadership pathway across all key stages preparing young people to become active citizens ready for the next stage in their lives.
Providing practical support to young leaders, coaches and volunteers in a mentoring role.
Establish rapport and respectful, trusting relationships with all learners, acting as a role model and setting high expectations to promote the general progress and wellbeing of individual learners.
Drive the development of appropriate syllabuses, resources and schemes of work.
To apply:
Please provide a covering letter that outlines how you believe your skills and experience can support Active Fusion. Please enclose a CV with a covering letter.
Please send your application to Jonathan Allan (Operations Manager) at jonny@activefusion.org.uk
Closing Date: Thursday 26th August 2021 at 12:00
To read more about the position, please click here.