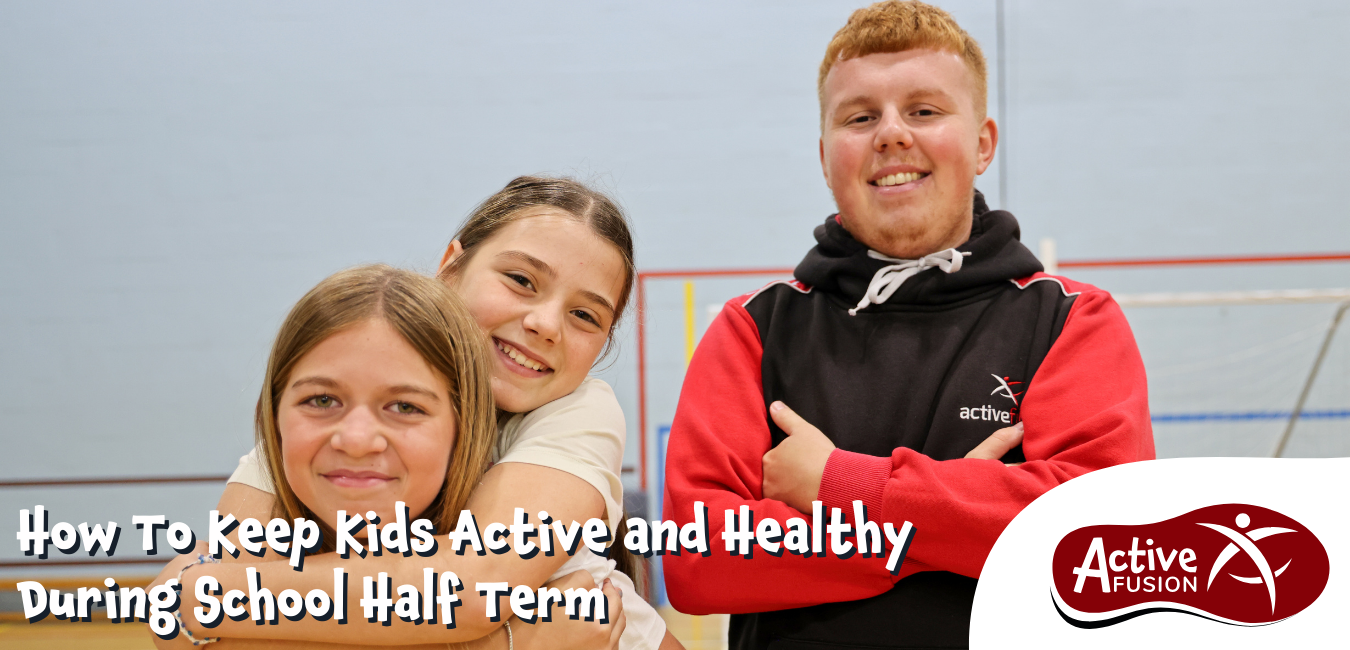 How To Keep Kids Active and Healthy During School Half Term
Children and young people are much more likely to continue exercise and develop healthy habits as adults if they have a positive experience of physical activity in childhood. 
School half terms are a pleasant break for youngsters, providing them opportunity to unwind and recharge. However, at Active Fusion, we understand that holiday periods can be difficult for both children and parents. Children often suffer from a lack of routine, less socialising with friends and overall lower levels of physical activity. As parents, it is hard to juggle work, childcare and other commitments. With the temptations of screen time and sedentary activities, having a plan to keep young people engaged and active is critical. In this blog, we'll look at some fun and practical methods to encourage your children to keep active and healthy throughout the school half-term. 
1. Outdoor Adventures 
Despite the challenges of scheduling outdoor time with your child, it is crucial for their healthy growth and development. Encourage outdoor activities that make the most of the school break. Consider hikes, bike rides, picnics, or nature excursions. Connecting with nature not only keeps kids active but also promotes a love of the outdoors in them. 
2. Screen Time Management 
With screens virtually everywhere in today's world, monitoring a child's screen time can prove challenging. While it's important to allow some screen time for relaxation, create explicit screen time limits. Establish a family agreement together to manage expectations of how screens and online platforms should be used and why. Limit your children's time spent on screens and urge them to balance it with physical activity. 
3. Family Fitness 
Setting an example for your children and encouraging physical activity is a surefire way to help them establish healthy habits lifelong. Involve the entire family in incorporating fitness into your everyday routine. Try family walks, dancing to your favourite songs, or making an obstacle course in your garden. Family participation makes exercise more fun and reinforces the importance of staying active. 
4. Healthy Eating Habits 
Many school-aged children in the UK are overweight or obese, which may have long-term consequences for their health. It may also have an impact on their academic achievement. This might be due to some of the social variables linked with obesity, such as low self-esteem, poor mental health, disrupted sleep and decreased time spent on physical exercise. School holidays are a great opportunity to teach your children about healthy eating and a balanced diet. Planning balanced meals together, discussing the importance of fruits and vegetables, and involve them in grocery shopping and meal preparation can help them develop healthy relationships with food. 
5. Fusion Camps 
Active Fusion's Holiday camps are designed to keep the holidays Fun, Fit and Healthy! We designed them to keep kids active, introduce them to new and exciting activities, and create a fun-filled experience they will remember forever. Active Fusion works to provide FREE places to children in need across Doncaster. To keep them fit, fed and safe in their community during the half-term. All our camps are planned by our team of qualified coaches. Throughout their employment with Active Fusion our staff regularly undertake development training on their coaching, safeguarding and first aid so your child will be well looked after on our camps. You can learn more about our Fusion Camps here and register your interest in our upcoming camps here. 
Ensuring that your children stay active and healthy during school half-term is not just about keeping them occupied; it's about fostering habits that will benefit them for a lifetime. Remember that every child is unique, and what works for one may not work for another. The key is to be adaptable, patient, and consistent in your efforts. By creating a supportive and stimulating environment, we can help our children thrive and develop into healthy, happy individuals.