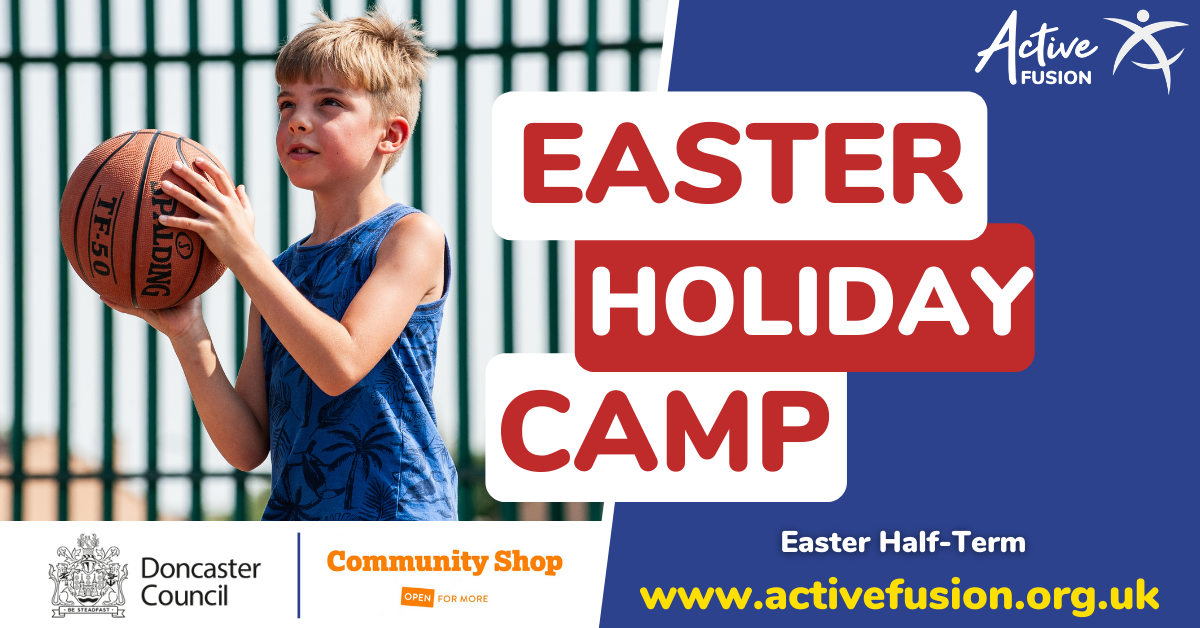 Easter Camps – Book your place!
Active Fusion, in partnership with Doncaster Metropolitan Borough Council, will be delivering holiday camps across the borough of Doncaster during Easter half-term.
On the back of the success of the February half-term camps, which saw 195 children experience fun and engaging activities, the education charity is now offering children between the ages of 5-11 the chance to keep physically active and nutritionally educated during Easter.
Determined to make holiday camps available all year round, the team at Active Fusion have worked tirelessly to make sure these camps will benefit those children who need it the most.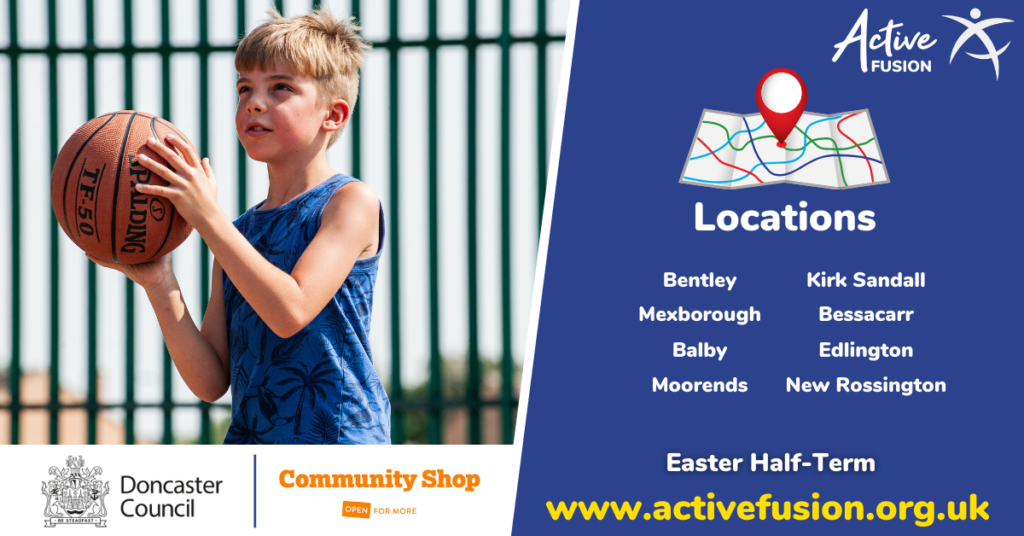 Due to the efforts of Doncaster Council, Active Fusion have been able to secure funding to run eleven camps in some high areas of deprivation within the borough.
The camps will run at the following venues:
Monday 29th March Thursday 1st April 2021:
"¢ Bentley High Street Primary School
"¢ Kirk Sandall Infant School
"¢ Mallard Primary School, Balby
"¢ West Road Primary School, Moorends
"¢ Willow Primary School, Bessacarr
"¢ Victoria Academy, Edlington
"¢ Windhill Primary School, Mexborough
Tuesday 6th April Friday 9th April 2021:
"¢ Bentley High Street Primary School
"¢ West Road Primary Academy, Moorends
"¢ Hill Top Academy, Edlington
"¢ Grange Lane Infant Academy, New Rossington
For children to attend, they must either be eligible for Free School Meals (FSM), class as Special Educational Needs (SEND), receive Pupil Premium or be in need of this provision. If your child matches the criteria, please book below: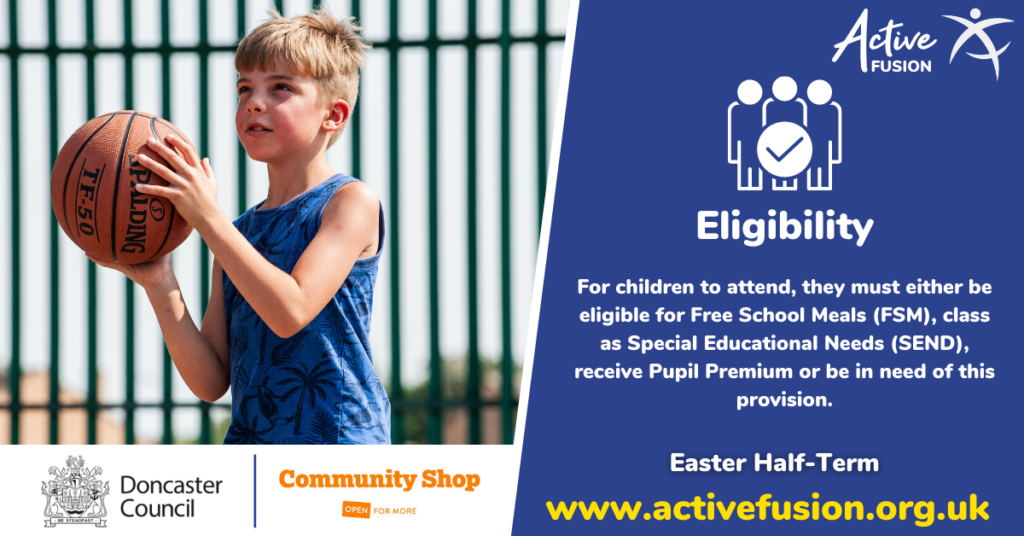 The booking form is now live, and places will be verified by the host school.
Doncaster Metropolitan Borough Council (DMBC) have stipulated as part of the Department for Education (DfE) funding agreement that 15 places will be reserved at each venue across the borough in order for the most vulnerable local children in each area to potentially have access to this provision. Children may only attend the camp in their local area, bookings will not be accepted from other localities.
As ever, Active Fusion aims to follow very strict Covid procedures and risk assessments throughout the camps. Coaches are being regularly tested in their schools and will continue to test during the holidays.
Active Fusion are also delighted to partner with FareShare Yorkshire and Community Shop, to provide children with healthy food and cooking packs, with each child taking home a cooking pack and instructions to make their own healthy meals at home with their parents.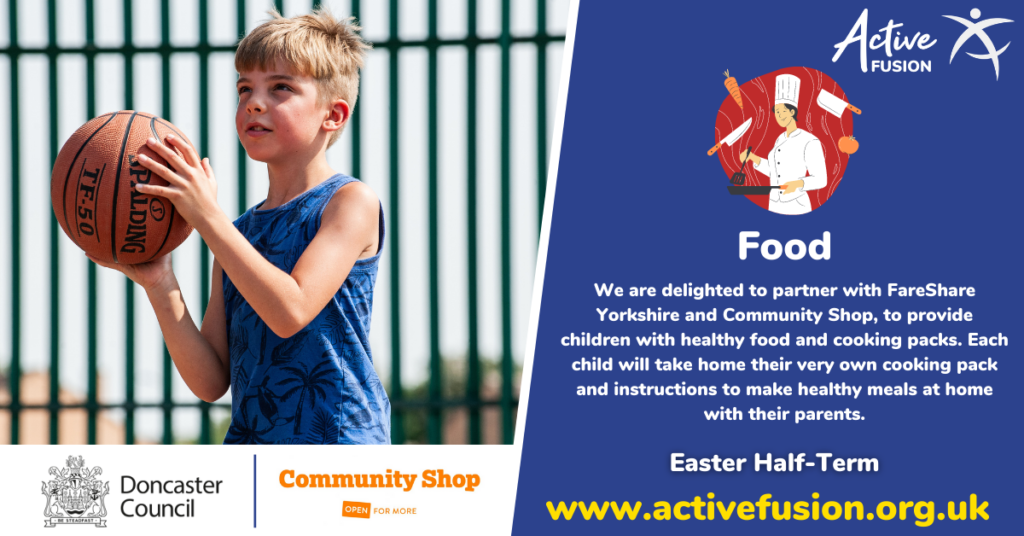 We have also created a virtual 'Easter PE' timetable, allowing children to stay active at home during half-term. The timetable includes virtual PE lessons, active challenges and fitness sessions aimed at keeping children mentally and physically stimulated.
The entire team is looking forward to welcoming children and young people across Doncaster to be happy, healthy and active this Easter.
For further information, please read our parents' guide.