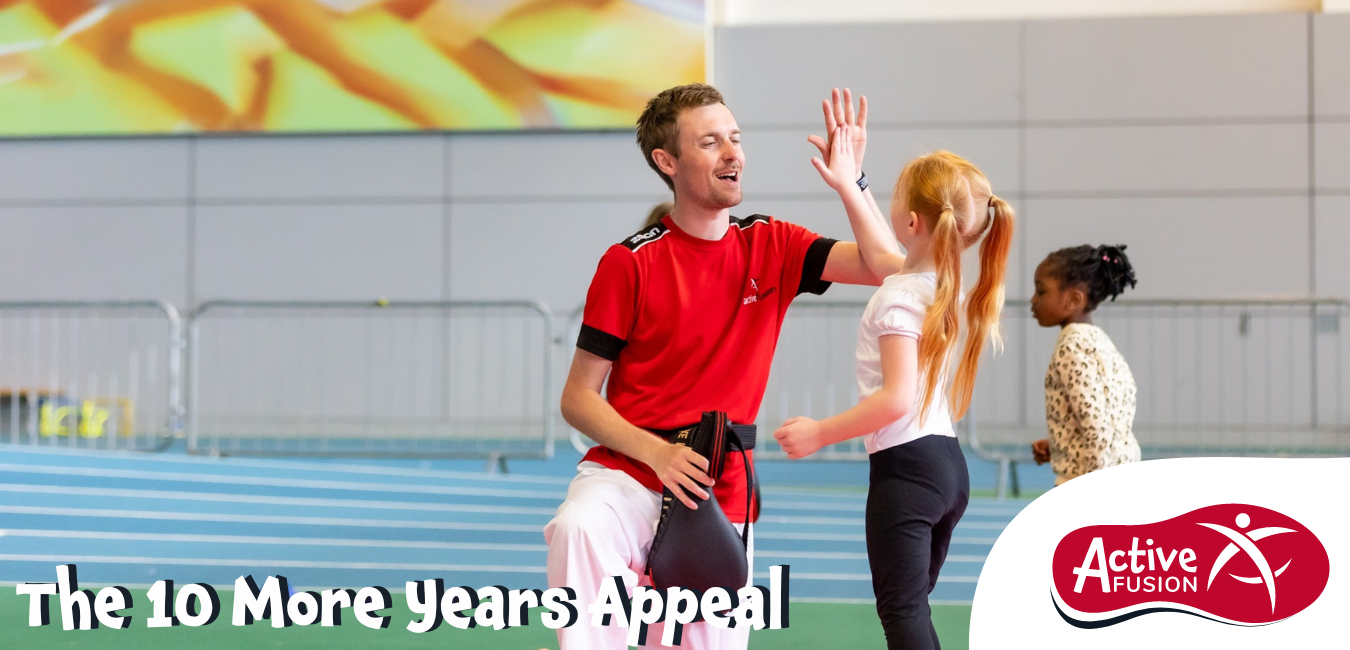 Becky Rose Kicks Off The 10 More Years Appeal
Head of Development at Active Fusion kicks off their 10-week campaign to raise awareness and funding for children living in poverty 
Too many children and young people, specifically those living in poverty, do not get access to the required hours of physical activity essential to a healthy childhood. With reduction in funding, time in education and lack of free provision in communities amplified by the cost-of-living crisis, this situation is exacerbated, leaving many children in situations of physical and mental ill health.  
Active Fusion's target is to raise £10,000 in 10 weeks, reaching 10,000 views of the 10 More Years campaign film to raise awareness of the issues faced by our most vulnerable children and young people. 
From 21 April 2023 to 30 June 2023, you can support Active Fusion by Liking the film, Sharing the campaign ask, Supporting a fundraiser and/or Donating to their appeal. 
To kickstart the campaign and support the appeal to raise £10,000 in 10 weeks, Becky Rose will be taking on a series of 10 for 10 Challenges starting with running 10 x 10K in 10 days. Can you support Becky with just £5, £10 or £20? Every pound drives the seconds we can buy back for our children. 
Raising just £25.00 helps fund 60 minutes of vital 1:1 and group coaching and mentoring for children and young people most in need. Your donation and kindness can help extend a life and make a difference in the physical and mental health of thousands of young people. 
Becky commented: "2.2 million children in England are active for less than 30 minutes a day (Sport England, Active Lives CYP 2022). This is a shocking statistic given that the Chief Medical Officer recommends a minimum of 60 minutes per day for children to live a healthy life! This is simply not good enough.  
In launching and leading the appeal, and in asking for others to support and donate, I felt it important to show my personal commitment to the campaign. I have donated personally and will be undertaking 60 active minutes every day of the appeal to fundraise for the campaign. That's 70 days, 'No Days Rest', where I hope to inspire many people to join me and make as much noise as we can to change the future for our children most in need". 
If you do anything, please watch the film, like and share it to 10 of your friends, family or colleagues and encourage them to do the same. You can follow Becky's journey over on Active Fusion's social media pages or donate directly to Becky's fundraiser here. 
You can find out more about the 10 More Years appeal here, donate via the Active Fusion website or fundraise via Just Giving. Don't forget to share it on social media with the hashtags #10for10MoreYears #FusionMovementCampaign and tag @ActiveFusion. 
By choosing to support Active Fusion, you are helping children and young people across south Yorkshire to thrive not just survive in the cost of living crisis. The money you raise will make sure these children and young people are safe, happy and healthy, so they too can 'Be the best they can be!' 
You can find out more about the charity's impact here.