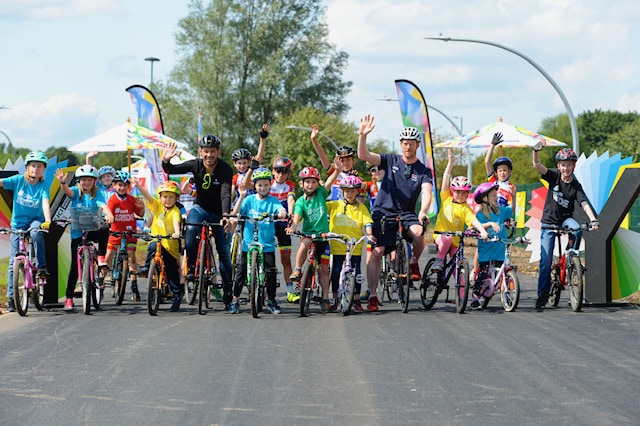 Active Fusion support kids to get involved with Doncaster events through Ready Set Ride training
We're just as excited as everyone else about the upcoming UCI Road World Championships and the development of Doncaster's very own community cycle track.
That's why we're facilitating free Ready Set Ride training this September to enable teachers to confidently train youngsters how to safely ride a bike. That way, they'll be able to make the most of the championships and have fun on Doncaster Cycle Track.
At the heart of all our work is the mission to enable young people, whatever their ability, to be more active. For this reason, we're delighted that Doncaster has committed to providing everyone with a fantastic facility to take part in cycling.
The UCI World Championships promotes the development of cycling, just as we want to promote the idea that physical activity is fun and should be accessible to everyone. That's why we've been out and about sussing out what people think to Ready Set Ride and how much they're looking forward to getting on Doncaster Cycle Track and seeing the events of the championships unfold.
Liane Kelly is a reception teacher at Manor Lodge Primary School in Sheffield. She said: "As a teacher, I think cycling is really important to learn not only for the physical benefits, like reducing obesity, but also for stress levels to boost children's emotional and mental health. Learning to cycle can also have a huge influence on developing school readiness and young people's ability to learn.
"Teachers are not confident to support children to cycle and research from children's charity Youth Sport Trust has found that 43% of teachers say they do not have the skills or confidence to support children learning to ride. As one of the 43% who was not confident in how to teach children to cycle, it was something I desperately wanted to change and make my responsibility."
She added that after taking part in a Ready Set Ride teacher training programme, she's seen children's participation in physical activity increase: "It has improved participation in physical activity and inspired children to become more active outside of school. We have seen groups of children start to cycle to and from school and hopefully, we have enthused children about cycling for life."
We can't wait to be part of Ready Set Ride and are proud to be one of the organisations involved with facilitating teachers to be able to get young people active. However, we've also been looking into the impact the new cycle track will have.
Ed Clancy, three-time Olympic Gold Medalllist from Barnsley, said: "Facilities like this one in Doncaster are absolutely critical in ensuring that people from communities of all ages and abilities can embrace cycling in a fun and safe environment.
Speaking about the UCI World Championships, Bob Howden OBE, President of British Cycling, said: "Evaluating the success of a major cycling event in the UK is now a wide ranging process, which goes far beyond the counting of medals or jerseys won. A key factor in the growth of cycling in Britain has been the inspiration to participation that follows both high profile events and the winning performances of our athletes."
The common theme throughout all these quotes is that everyone should have the opportunity to be active and that Doncaster is inspiring young people to become the next generation of happy and healthy adults.
If you'd like to be part of that legacy, book on to our FREE Ready Set Ride training event, taking place on Thursday, September 26th. The training will be followed by a professional networking event. BOOK HERE. 
British Cycling and HSBC UK, in partnership with children's charity the Youth Sport Trust, developed the HSBC UK Ready Set Ride programme in schools with the aim of ensuring that every child in the UK is given the opportunity to learn to ride a bike. Ready Set Ride breaks down learning to ride a bike into three easy to follow steps which can be done at school or at home with parents. It is delivered through a series of online videos, an easy to understand, bite size resource pack, and is supported by fun games and activities to develop a child's skills both on and off the bike. All digital resources are available to download for free.