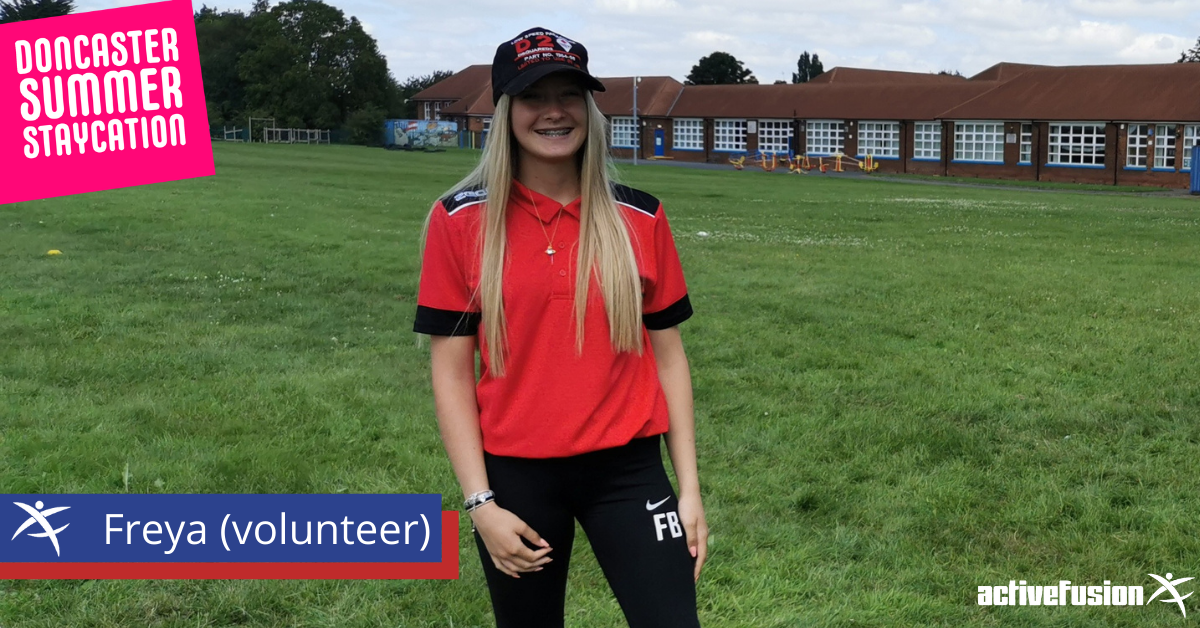 Young volunteer spends her Summer coaching with Active Fusion
A young volunteer spent her summer helping Active Fusion deliver their Summer Sports Camps, and loved every single moment. 
Freya, 15, a secondary school student and keen sports enthusiast, spent four weeks volunteering her time to help coach children on the Summer Staycation project. 
The Summer camps were designed to help children continue to be physically active across the borough of Doncaster, allowing them some form of preparation for going back to school for the first time since March. 
Having had to deal with changes to her schooling, Freya thought the best way to keep herself busy was to take advantage of the opportunities presented to her by Active Fusion, deciding to volunteer on camp. 
She said: "I really enjoyed and liked working for Active Fusion this Summer.  
"It was something completely different and new to what I've done before; I couldn't wait to keep going back every day. 
"Waking up early during lockdown really helped me keep motivated and want to keep active during a difficult period. The camps were a great way for me to gain experience in coaching, which is something I really want to do after school."
Why volunteer?
With an avid background in sport from a really young age, Freya fitted into life on camp seamlessly. Originally seeing the camp as a way to boost her confidence, they soon became so much more. 
She added: "I wanted to be able to build my confidence and see if coaching was something I'd like to do once I finish school.  
"After spending my Summer in and around coaches, it is 100 per cent something I want to do after school.  
"Working with the different children on camp was so much fun and taught me a lot about being a good coach and role model for young children." 
Why Active Fusion?
This wasn't the first time that Freya had heard of Active Fusion. The Year 11 student had worked on camps previously, having volunteered during the February half-term at Woodlands. 
The memories do not stop there, as Freya remembered the Active Fusion coaching team coming into her primary school more than five years ago. 
She said: "A lot of the time Active Fusion would come into my secondary school and tell us about the opportunities for work experience and volunteering, but I remember the coaches coming into my primary school which was five years ago.  
"When they came into my primary, they were really helpful and fun and made sessions enjoyable. I even remember Mr. Stirling coming in. He used to always make sessions active, it made me want to do PE all day.
"I did some research and after speaking to the team about what they do, I decided I really wanted to volunteer this summer." 
The impact of COVID-19
With the pandemic being fresh on everyone's minds for the past six months, there has been plenty of times when things have looked uncertain. Not one to be negative, Freya was thankful for the opportunities that have appeared which have helped her keep busy and learn new skills. 
She said: "I just loved the whole experience.  
"I was shy on the first day but after that I made friends with the staff and truly felt like part of the team. 
"It was nice to meet new people. I've seen the same people from the same bubbles for the past four months so it was nice to mix with new people.  
"Not only that, I've been able learn from them. It was good to get back to some form of normality again and just have fun." 
Freya was quick to mention how the new ways of delivering coaching sessions was new and unknown to most children, but it still worked. 
She added: "Covid meant the camps had to run differently but to see children come every day and smile and have fun was really good to see.
"It was really important for children to be able to form friendships again and see their friends. The camps have given children a real boost for wanting to be active again."
What next Freya?
With plenty of options to choose from when she approaches the end of her GCSEs, Freya has not ruled out the option of working with Active Fusion again.
She said: "I would love to work for Active Fusion again; in a heartbeat.
"A lot of people couldn't understand why I wanted to volunteer during the Summer but I've learnt so many new things and it's helped me come a long way to decide what I want to do after I leave school next year.
"I will keep taking every opportunity I can to gain more experience and knowledge."
After spending more than a month working with the team, Freya would like to encourage more young people to take volunteering options when they present themselves.
She said: "I would recommend working with Active Fusion from a young age like I did. It helped me develop my skills and it really motivated me to want to spend my time giving back to children which is a really good feeling." 
For more information on the impact of the Summer camps, click here.