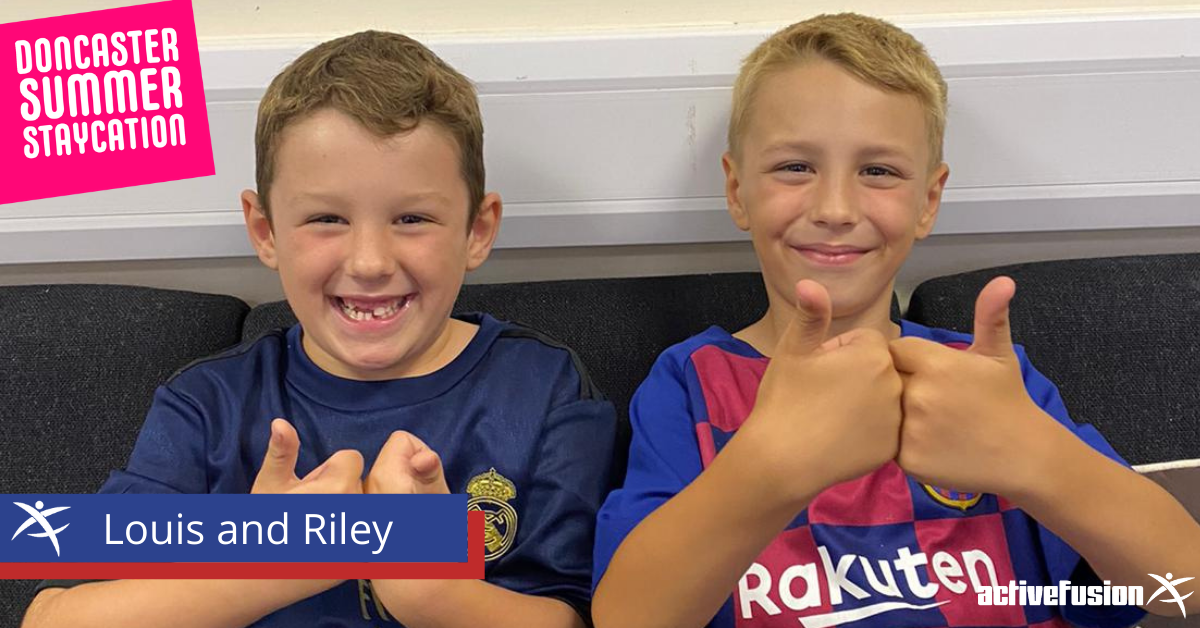 Parents have loved seeing their kids happy this summer
It has been the revelation of the summer, with the positivity still pouring in around the success of the Summer Staycation programme.  
After what has been one of the toughest years the country has seen in recent memory, back in July, parents were finally able to share some good news with their children. News that they can play, socialise and interact with other children. 
For the past six weeks, children from all over Doncaster and surrounding areas have been able to enjoy their summer, which has been noticed by the parents and family members of those very children.  
From seven different locations, the community of Doncaster has been re-energised, spurring children on to remain active as they start back at school. 
Some of the feedback has been truly inspiring and has touched the hearts of all the Active Fusion staff who worked over the summer. Not just the staff, but all the volunteers who helped make the camp the success it was. 
You've helped my kids
Many parents have spoken out about the summer camps, praising and applauding the setup, coaches and impact it has had on their children's wellbeing and mood. 
Mandy, whose children Lucy and Alfie attended the camp at West Road, Moorends said: "I just wanted to say how much Active Fusion helped my kids. 
"Firstly, it gave them a sense of routine again; being able to have fun and run around being active again was priceless. Their own mental health was a worry before attending camp, but they are feeling so much better now, better than before lockdown. 
"The staff were amazing and so helpful; I couldn't have asked for better. It was a relief having kids in a safe environment, being active again around coaches who made sure they had a great time. 
"I would recommend this to everyone and I will definitely bring my kids again. 
"Thank you again to you all. Lucy and Alfie all talk about Connell and Zoe from West Road." 
Happier within themselves
With the wellbeing of children being a major focus nationwide at this current time, the team wanted to make sure children were given something to smile about, while remaining active. 
Mille, who attended the Edlington camp with her brother Owen, had the chance to burn off her energy, to the delight of her mum, who commented: "My kids thoroughly enjoyed summer camp. They came home every day and told me all about the fun they had. 
"My children are very active. They love all sport and love to be outdoors so this camp was the perfect choice. They've attended different camps like this before so I knew they would enjoy it. 
"They came home from camp a lot more relaxed and chilled out. They finally found somewhere where they could burn all of their energy off which was great.  
"They are a lot happier within themselves and for them to be able to get out of the house and have fun with other children is really nice to see. It's been great for them to see their friends again and come home with smiles on their faces." 
A more normal life
The team wanted to offer children a chance to have a summer full of fun, excitement and memories  which has been hard to come by since March.  
Emma, mother of Riley and Louis who attended the camp at Longtoft, said: "They absolutely loved it.  
"After their first day at camp they asked me if they could book on for the entire week after because they just enjoyed it so much. All this time they've been stuck at home it's just nice for them to be around other kids." 
"The camps have made life a bit more normal. They've had more enthusiasm about doing stuff and seem less emotionally drained because they've been physically active." 
"During all this (Covid-19) the kids have been forgotten about. There's been no parks to play on you had to walk past a park and try to explain why they couldn't play on them. They couldn't understand why they couldn't see their family or give their nanna a hug. It's been hard.  
"The camp made a huge difference.
"I'd definitely book on again. I've been working nights so it's refreshing to know that my children have been learning new skills. Apparently, dodgeball is the best. They love dodgeball." 
Positive experiences were needed
It's easy to get caught up in what's going on in the world. Children needed something positive to happen and we are glad a handful of parents stated that our summer camps were the positive experience their children needed. 
Paula, parent to Kara who attended the West Road camp, stated that she "found that the Active Fusion summer camps had been a real positive experience for Kara and me.  
"Kara can easily get bored, and with everything that has been going on over the last few months, this has been such a great way of reassuring Kara about COVID-19 and that it can be safe to do things like this, while socialising with friends and having fun. 
"It has helped her have structure and routine and this will definitely help her starting secondary school. 
"Since starting the camps, Kara has been happier at home and her behaviour and attitude have improved tremendously. I am so glad Kara had this opportunity and would definitely recommend it to others. Thank you so much."