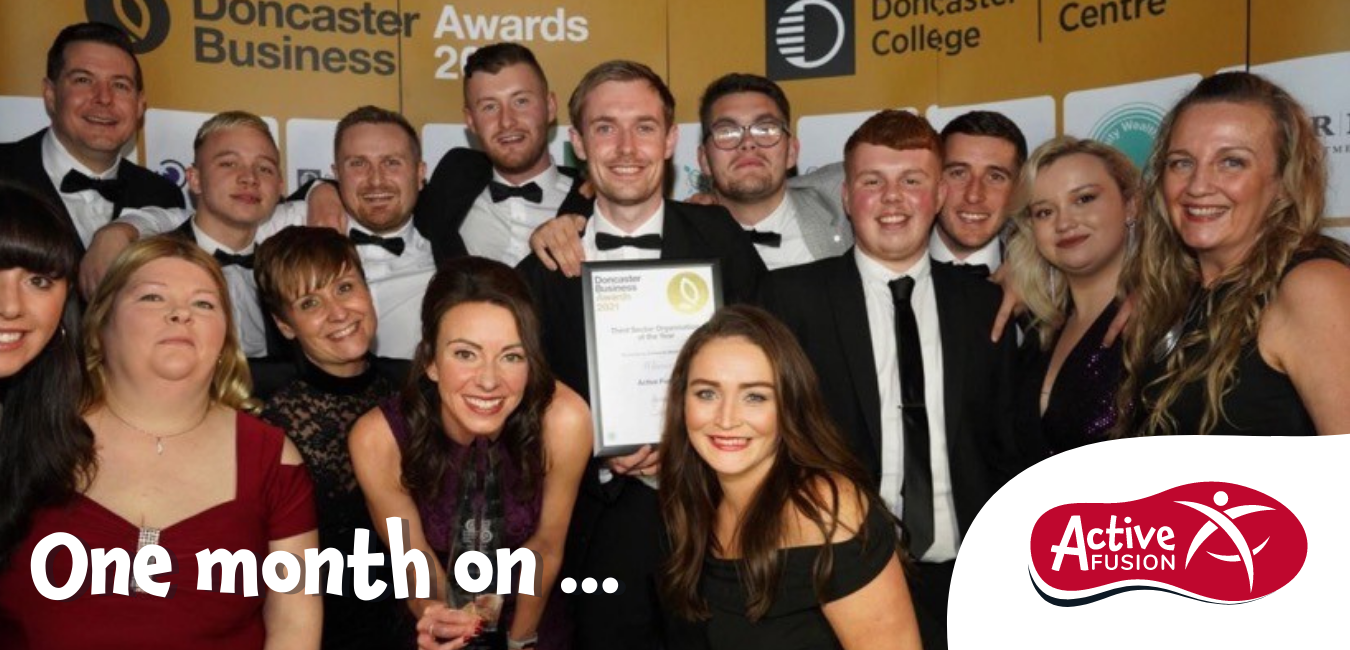 One month on from the Doncaster Business Awards
The Doncaster Business Awards 2021 was a night to remember!
Businesses from all around Doncaster gathered to celebrate a year that was one of the hardest periods for businesses and charities from some time. The evening made space for attendees to celebrate achievements, relationships, and the communities we serve. Doncaster Chamber outdid themselves with the spectacular event, an event showing that we are stronger together as a community.
The spirits were high in the room, mixing with nerves from the Active Fusion team who was up for two awards that night – Business engaging with Education and Third Sector Organisation of the Year.
These categories had so many fantastic businesses and charities, just being nominated felt like we were winners already.
Having worked with over 26,908 children and young people improving their physical health, mental wellbeing, and creating life changes, making a difference in their lives across South Yorkshire will always be our single greatest achievement.
We pride ourselves on putting children and young people at the heart of everything that we do. Their voice has shaped our vision, mission, values but most importantly it keeps us in touch with how the charity can make a positive impact on their issues.
However, being the recipient of the Third Sector Organisation of the Year 2021 is certainly the icing on the cake! The Active Fusion team was ecstatic to win as it signified all the hard work from our team over the last year. Thank you Community Wealth Builder!
Lindsy James, Director of Active Fusion, said "I feel both humbled and a huge sense of pride in winning the Doncaster Chamber Third Sector Organisation of the Year award. This represents the passion, dedication, and nurture that our incredible team show every time they connect with young people. However, we are always ambitious to touch more young people's lives by supporting them to become healthier, happier, and more active."
For 2022, we have even bigger plans and look forward to building new relationships with the organisations around South Yorkshire.
If you would like to work with our charity or become a corporate supporter or a Friend of Active Fusion then please contact our Director, Lindsy James, at lindsy@activefusion.org.uk or our Head of Development, Becky Rose, at becky@activefusion.org.uk. We would love your support to help make our successful 2020-2021 campaign pave the way for an even bigger impact in 2022.
We will be exhibiting at the Business Doncaster: Business Showcase 2022, so make sure to come a meet us!