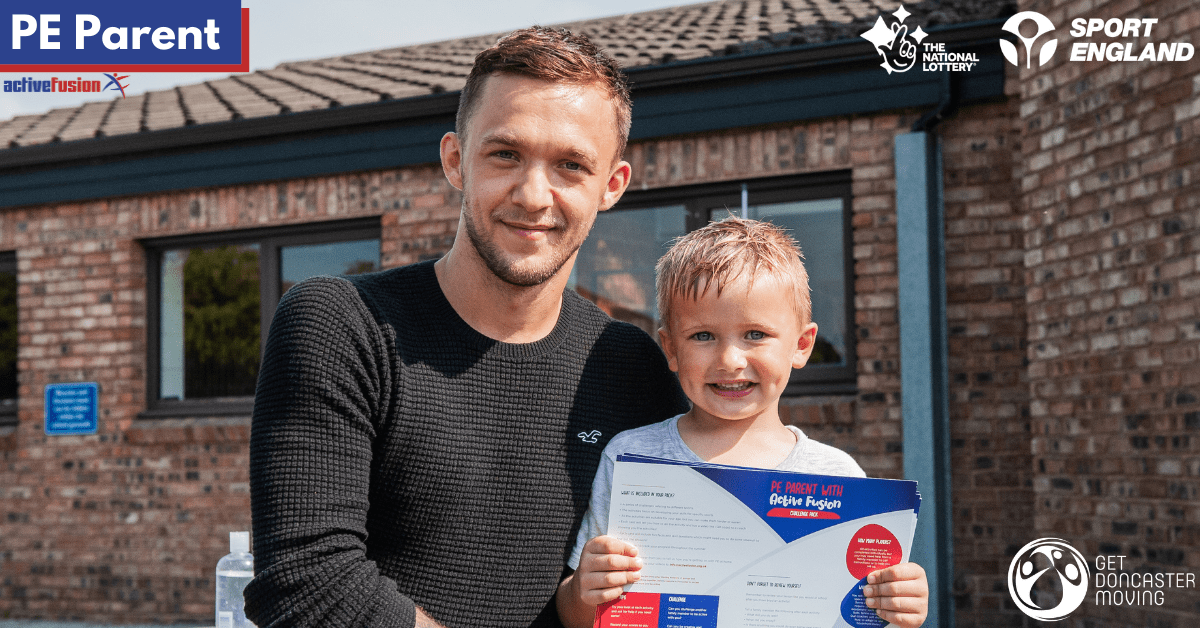 Local charity helped Active Fusion to keep children active during lockdown
A local charity teamed up with Active Fusion during lockdown to provide families with engaging ways to keep their children healthy and active.  
The Moorends Miners Welfare and Community Development Centre helped Active Fusion to deliver copies of PE Parent, a free activity resource supported and funded by the Get Doncaster Moving and Sport England Local Delivery Pilot, to families across Thorne and Moorends in an attempt to offer parents the opportunity to keep their children active. 
The PE Parent resource, which was delivered to families all across Doncaster, was designed to allow parents to become "˜PE teachers' in their own home, something which Susan Durant, Manager at the development centre, thought was needed. 
She said: "PE Parent definitely helped families keep their children active and engaged. 
"Sometimes, we all just need something to prompt us to make those extra efforts. The resource is full of fun ways for parents to keep their children active, especially under the restrictions we face. 
"It doesn't just help children, but it keeps that family connection warm and creates a positive environment within the household."
Helping spread the message
Susan and her team at the centre in Moorends were more than happy to help Active Fusion deliver this resource, which has been delivered to more than 3700 households in Doncaster. 
A call from Active Fusion was all it took before Susan started making the arrangements with schools and community groups, stating how their connections with schools made the job easier than it could have been. 
She said: "Hannah from Active Fusion got in touch with the centre about how we can help them engage with local schools in Thorne and Moorends.
"Because we have quite a strong connection with schools and parents, I got in touch on Hannah's behalf to see if there was any interest around a resource to help keep children active, which there was." 
Children needed to be stimulated and encouraged to keep active during a very tough and uncertain period, which led Susan to help deliver the resources at all costs. 
She added: "We know the health and wellbeing of children is very important as it impacts on their mental health. 
"During lockdown, it was very tough for children and a lot were struggling to keep motivated. The PE Parent resource was full of great ideas and we thought the local community could definitely benefit from it.
"We just wanted to make sure children across the community could access opportunities like PE Parent and feel supported."
Vibrancy a key factor
The need for something to engage with was clear, but why did PE Parent do so well? Susan believes every aspect of the resource contributed to its success. 
She said: "It was beautifully presented, easy to follow and very vibrant. 
"Parents were able to engage with it easily because of the clear and simple language, while the amount of different choices and activities made it suitable for the entire family to engage with." 
PE Parent not only provided parents with the knowledge to deliver activities at home using household object, but it also helped children learn new skills and keep developing without school. 
Susan felt, at the time, children needed more support than ever before. 
She said: "It was really important that children were encouraged to keep active.  
"Too many were becoming disengaged during lockdown and needed this to help keep them healthy both physically and mentally.  
"PE Parent also allowed children to engage with their parents and siblings in the best way possible, enticing and encouraging all the family to remain active."
Professional, enthusiastic and eager
Active Fusion and the Moorends Miners Welfare and Community Development Centre continue to work hard in the community to offer families and children more opportunities. 
When asked if she would consider working with Active Fusion again in the future, Susan was quick to respond. 
She said: "Definitely. The entire organisation from top to bottom is professional, enthusiastic and eager to help children and parents stay fit and healthy. 
"We wouldn't hesitate to work with Active Fusion again in the future. We hope it happens."