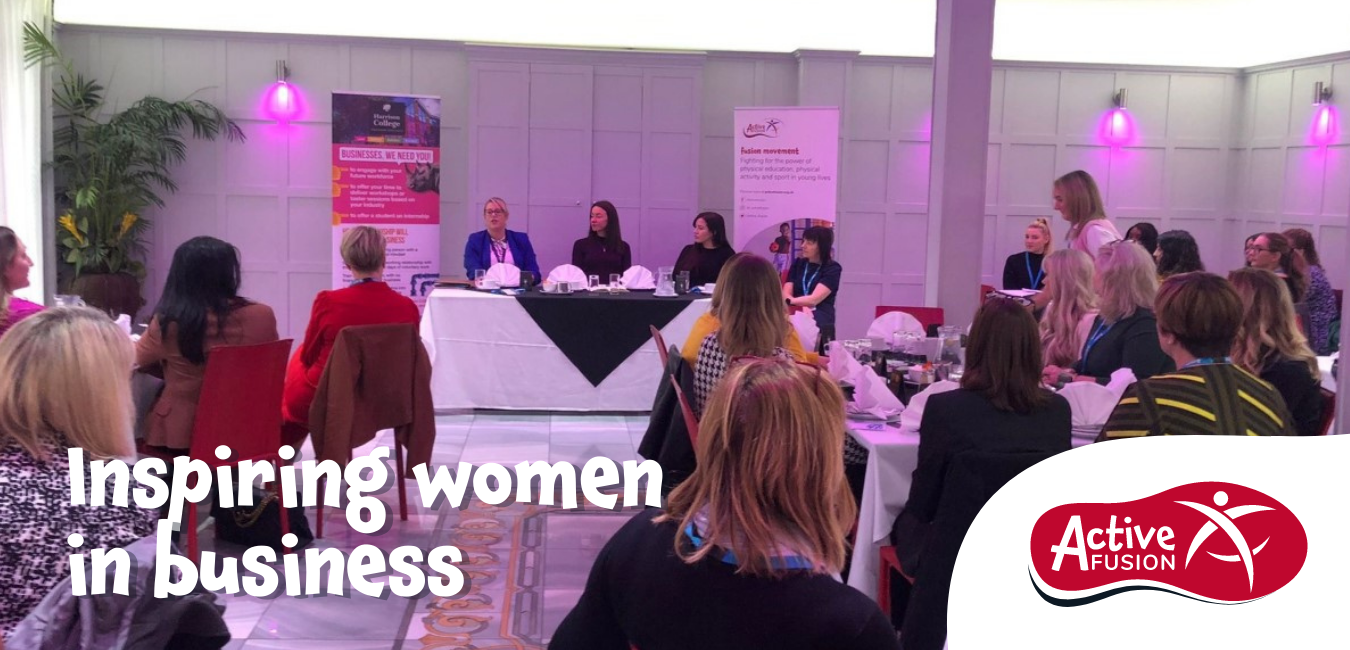 Inspiring women in business
On the 25th of January Director and Founder of Active Fusion, Lindsy James was invited to be on the panel at the Doncaster Chambers an event Inspiring Women in Business event at the Earl in Doncaster. 
The event, led by Jill Wood included a panel of three successful local women, who discussed the challenges they have faced in launching and sustaining successful businesses or organisations. They shared insights into the motivation behind why they do what they do and stories of success and the challenges along the way. 
Panelists at the event were Rebecca Crawforth – Owner and Director of Navy Professional, and Gemma Peebles – Chief Executive and Principal of Harrison College.  
At the Doncaster Chamber event, Lindsy spoke of her inspiration for setting the charity up. The heart of the organisation is dedicated to all young people having the chance to be healthy, happy, and active. Achieved through providing mental health and wellbeing programmes and supporting young people to reach their full potential. 
Jill pushed the panelists to share advice for successful women in business to consider.  
"If you believe that you can, you will. So self-belief is very important but is realistic. To achieve good things means taking yourself out of your comfort zone. Establish your why, what is your purpose? You must do something you love so discover your purpose and passion. Lasting change cannot be achieved on your own so surround yourself with good people whether that is colleagues, friends, and networks". 
The event posed provocative thoughts on what it truly means to be successful in business. Three very different leaders, from very different sectors, candidly shared their experience and journey of being a woman in business. Proving that there is no 'one size fits all approach, each of the women on the panel had built their business their way, and now shared their secrets to inspire women in business.  
Lindsy James, who started her venture into children's sport 20 years ago has built a charity that fights for the power of physical education, physical activity, and sport in young lives. With a rapidly growing team behind her, Active Fusion puts its heart and soul into improving the physical health and wellbeing of children and young people. 
Being inspiring isn't limited to Lindsy's professional accomplishments. It's no secret that Lindsy has dabbled in many fitness challenges, always pushing to go one step further. So naturally competing and winning the World Duathlon Championships in 2021 showed her determination to truly be the very best she can be personally as well as professionally. 
Lindsy's nature and attitude to continue to push herself to improve resonate heavily throughout the Active Fusion team, with the charity continuing to provide opportunities and raise the aspirations of children and young people across South Yorkshire. 
Inspired by her leadership, Active Fusion goes from strength to strength as we create the best start in life for children and young people to be healthy, happy, and active.