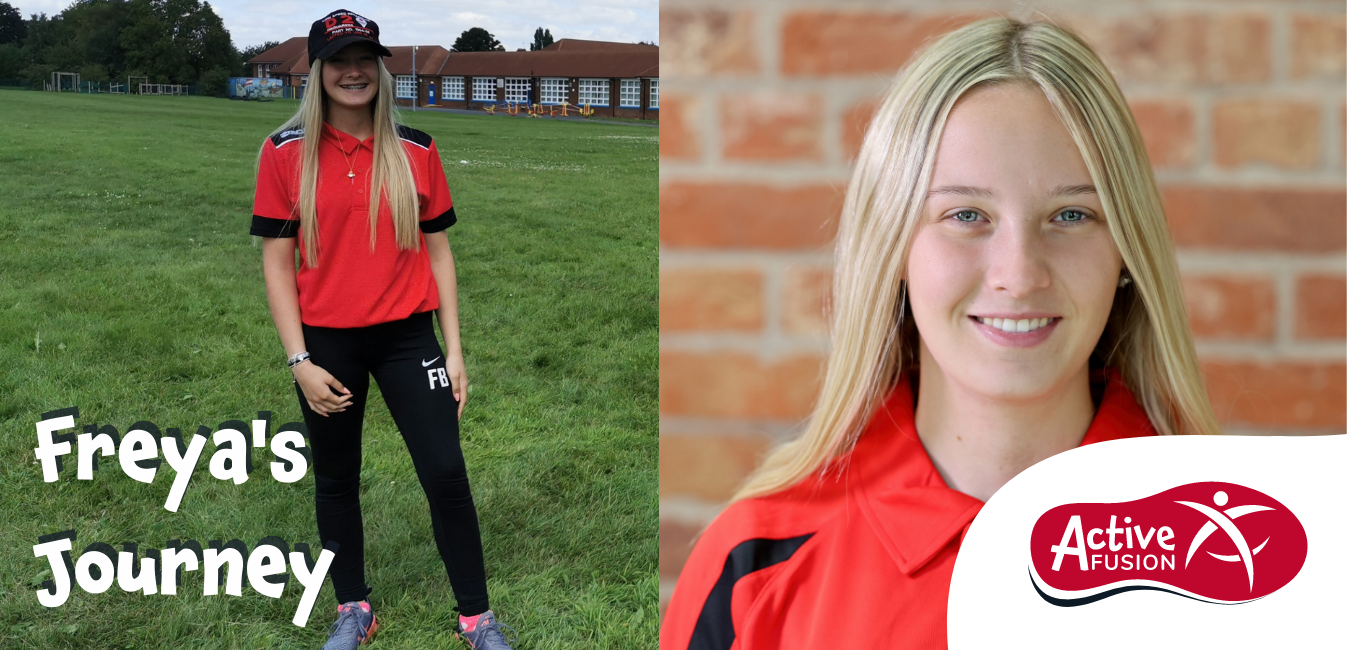 Freya's Story: A Journey Through Active Fusion
Starting her fourth year with the charity, Freya tells us about her journey from a volunteer to a second year apprentice!
Freya, 17, has a long history with Active Fusion. Starting out as a volunteer on our Fusion Camps at age 14 to working her way up, and completing, a Level 2 Community Activator Coaching Apprenticeship. Freya has now embarked on a new journey with Active Fusion as a Digital Marketing Apprentice.  
She started her journey to ensure her love of sport was what she wanted to pursue, and she was correct. "My tutor, Adam, at Active Fusion pushed me out my bubble to become a better coach". This year Freya worked alongside 13 other apprentices, Freya being the youngest in the cohort, to complete 13 months of work whilst employed by Plover Primary School.  
Why did you choose to carry on your AF journey? 
From volunteering previously with Active Fusion, Freya knew she needed to grow in confidence to succeed in her chosen career path. Having finished her first apprenticeship in September, she decided to pursue another passion of hers and took on the role for a Digital Marketing apprentice, carrying on her love of sport – just in a different way. Freya explained, "At the AF Annual Conference I was there to support but I was influenced by the media team, and it was something I was passionate about learning". Carrying on her journey, she starts her fourth year with Active Fusion. 
Why AF for your apprenticeship choice? 
Reflecting on her journey with the Sports Charity, Freya claimed: "Active Fusion are a close family that helped me become a more confident and outgoing version of myself". She was one of 13 students completing the Community Activator course alongside Active Fusion staff showing her the way. After 13 months on the programme, her mentor from Plover Primary School said: "Freya has rose to the challenge and blossomed".  
What were your experiences like? 
"Working in education is something I'll take with me forever" is what she said about her challenging, confidence boosting time in coaching. Being the youngest on the course taught her to "push harder" to be at the same academic level as her group. Having knowledge in both camps and schools allows Freya to use this to her strengths when taking on the media role. 
What's next Freya? 
Taking on the Digital Marketing apprenticeship this year, further down the line Freya wishes to still be a part of the Active Fusion team, weather that is online or coaching. "I would recommend our charities opportunities to anyone who wants a sporting background and who would help to leave their legacy when coaching children and young people". 
For more information on Apprenticeships Press Here 
To donate funding towards apprenticeship and the development in young people, press our Donate button, to be onboard with their journeys!