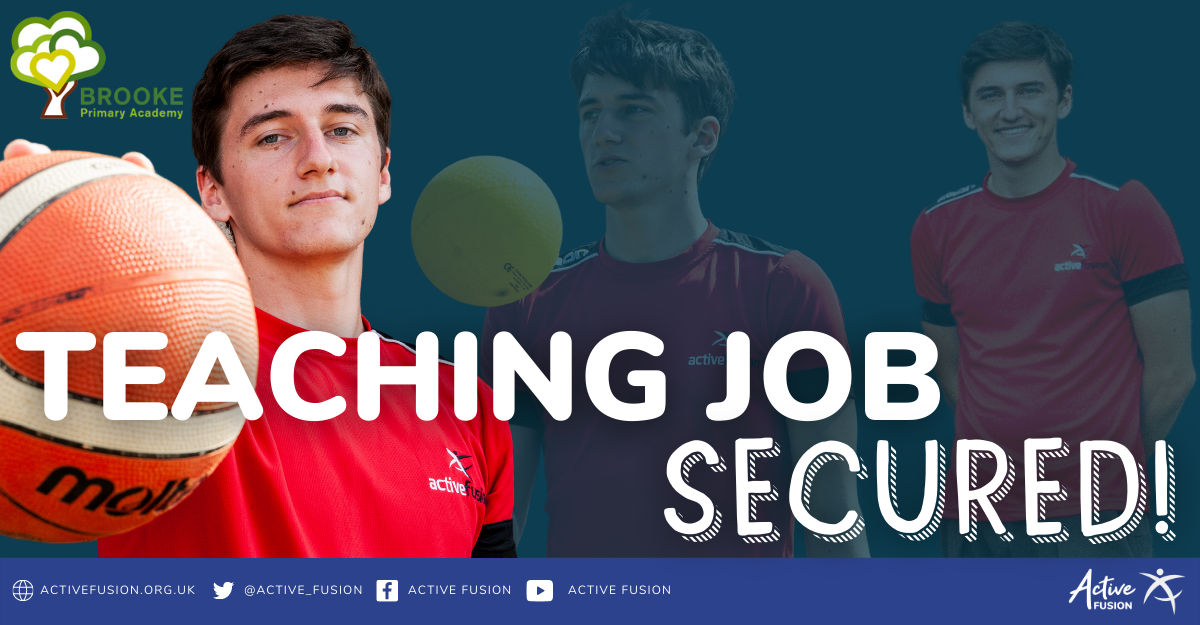 Former apprentice secures teaching role in local primary school
Former Active Fusion apprentice Cameron Jones has been offered a teaching role at a local school – Brooke Primary Academy in Thorne.
The 22-year-old excelled during his time with Active Fusion during the 2019/20 academic year, and lands this role after completing his teacher training at Travis St Lawrence.
Cameron, a university graduate, began his apprenticeship with Active Fusion upon completion of his degree, putting in hours of hard work and developing his practical skills to coincide with his academic expertise in the education industry.
His will to succeed, coupled with his desire to encourage children to enjoy their PE lessons, has clearly proved invaluable to Brooke Primary Academy, as he looks to kickstart the next chapter of his teaching aspirations in September.
When asked how he felt upon receiving the good news, Cameron stated how the news took him by surprise. He said: "I was very surprised to have received the role of a class teacher, and I was barely able to restrain my excitement when given the news.
"It was the best reward for having put all of this time and effort into my future and knowing that I am one step closer brings a lot of excitement.
"Active Fusion played a vital part in my journey as without them, I do not think I would have made the lifelong connections that I have made through my apprenticeship and now my training.
"Without taking the apprenticeship, I do not believe I would have developed the knowledge and skills that are vital to working within primary schools. For that, I am grateful for Active Fusion."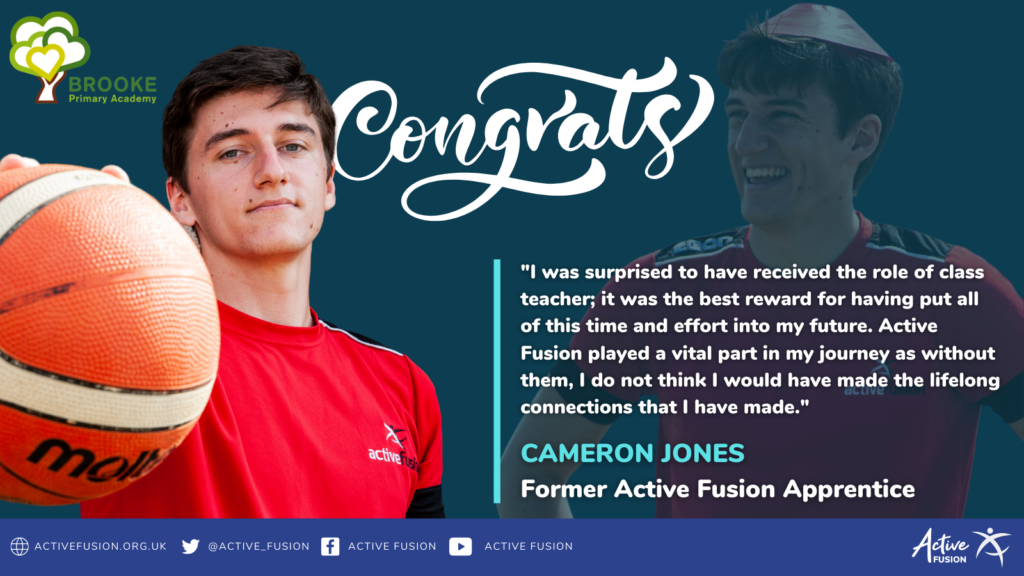 Always willing to go the extra mile, improving not only his own sessions, but constantly lending a hand to his fellow apprentices, Cameron has proven himself to be a perfect fit for the Thorne Primary School.
Throughout his apprenticeship, Cameron also impressed Active Fusion staff, which Apprentice Tutor, Sarah Belk, says is down to his "˜maturity and ability to take on new challenges with a smile on his face'.
She said: "Cameron was always committed, proactive, energetic and enthusiastic to mentor.  He was a pleasure to teach and work with and completed all tasks with ease which shone through his professionalism and his feedback from those who worked with him.
"We are delighted to play such a big part in offering Cameron the opportunity to explore his career pathway and to support him to be successful in his new teaching role at Brooke Primary Academy.
"Congratulations Cameron, we are so proud and look forward to hearing about your journey going forward."
Cameron will be a major asset to Brooke Primary Academy's faculty, as the team continue to support Cameron as part of the apprentice alumni group.
Congratulations Cameron on a well-deserved and earned opportunity.
Could you benefit from becoming a PE and School Sport apprentice with Active Fusion? Click here for more information.