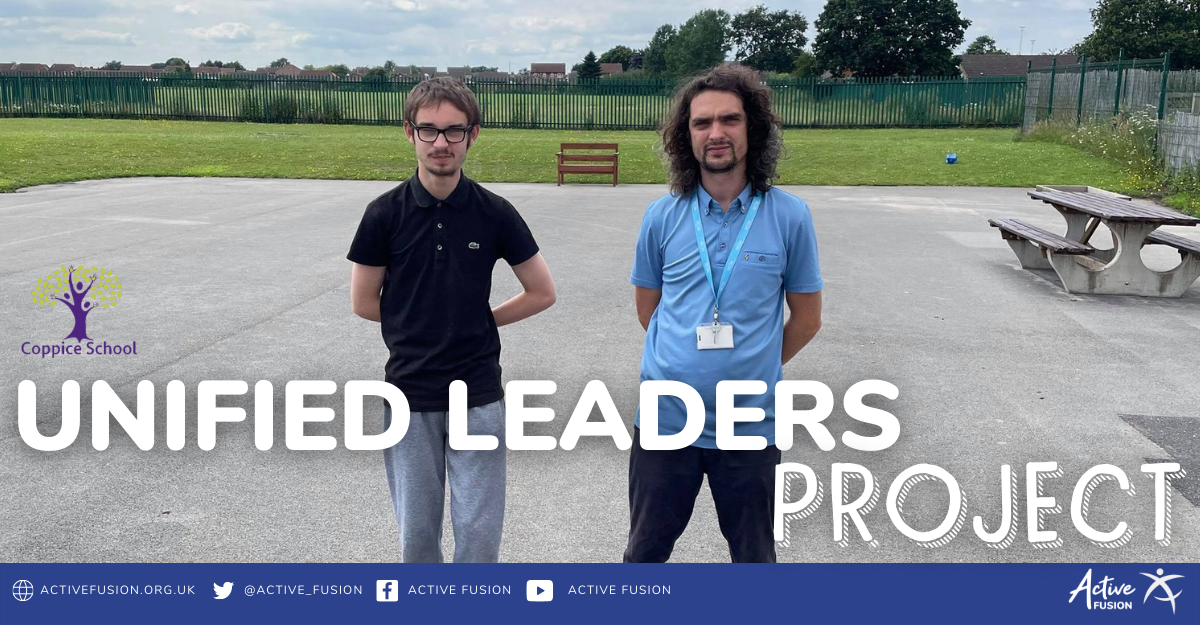 Local SEND students continue to benefit from the Unified Leaders project
Active Fusion's Unified Leaders project continues to give SEND children the opportunity to participate and engage with sport, with Coppice School delighted with the results.  
The project, in association with BBC Children in Need and sponsored by Doncaster Business for the Community, aims to develop the essential life skills and health of children with SEND through physical activity.
The students who have taken part in the project have experienced opportunities to enhance their leadership skills, alongside their teamwork abilities with a specialist Active Fusion mentor.
Chris Medwell, head of post-16 at Coppice School, has praised the practicality of the project, seeing his students excel and gain valuable life skills to take with them into the world of employment.
He said: "The Unified Leaders course has been such an enriching experience for our students, they have developed a whole range of skills that can be transferred across the curriculum, skills that will prepare our students for adulthood.
"It is important that children and young people have opportunities to participate and engage in sport. The impact the project has had on their mental health is unquestionable, but it has also built on softer skills, such as self-esteem and confidence." 
Taking on the challenge
Coppice School were determined to make the most out of the project, taking advantage of the opportunities presented by Active Fusion. 
A host of young people have gained valuable experience volunteering on camp, none more so than James, who has used the skills developed on the Unified Leaders programme to his advantage. 
James said: "It was an enjoyable experience and I really enjoyed learning new skills. I enjoyed all of the sports that the project had to offer and tried to engage in all the lessons in PE to the best of my best ability.  
"Before Unified Leaders, I would not have had the confidence to stand in front of a group of people and talk to them, but the project has brought me on a long way." 
Putting life skills to the test
James has worked closely with Project Mentor, Tom, over the past six months as he looks to pursue further education opportunities after finishing up at Coppice.  
The sports-mad student has brought positive energy to the sessions, something which he hopes to take with him into adulthood. 
He said: "My favourite part about the Unified Leaders is learning about the different skills and how I can put these skills into practice in my everyday life and when I deliver my sporting sessions. 
"After I finish at Coppice I am hoping to go on to college and further my education and study in sport." 
Coppice delighted with Unified Leaders
The project also aims to give work experience opportunities to the students, in order to give them the best possible chance to gain employment post-school, something which Chris and his faculty were eager to explore. 
The Covid pandemic has limited the opportunities available for the students to put their newfound skills to the test, but they have been proactive nonetheless. 
Chris said: "All of the students have benefited from participating in the Unified Leaders project, it has also had an impact across the school as students have utilised the skills provided to lead sessions (virtually) and create short instructional videos that have been shown across the college.
"Two of my students have also demonstrated such a high level of understanding that they have had the opportunity to work with Active Fusion as part of work experience, supporting at their holiday camps.  
"This has been an amazing opportunity for the young people, one that could not have happened if we hadn't participated in this project. I would highly recommend other schools to take part." 
"Before Unified Leaders, I would not have had the confidence to stand in front of a group of people and talk to them, but the project has brought me on a long way."
If your organisation wants to get involved and look to provide opportunities and experiences for the young people on the project, please get in touch here.