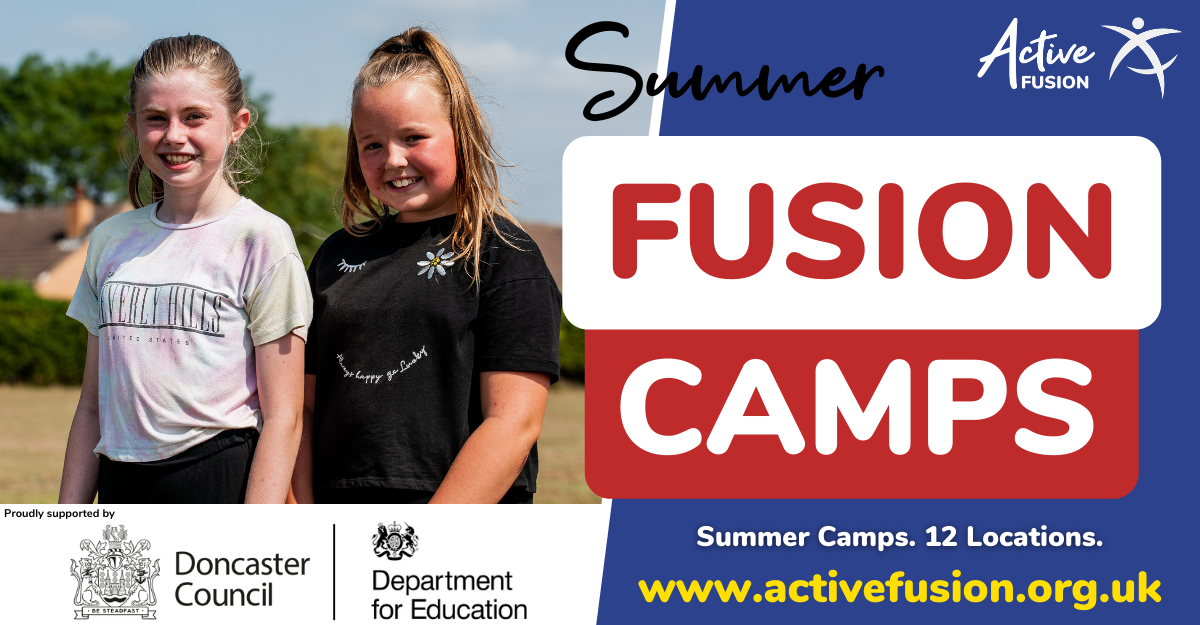 Summer Fusion Camps are here Book your place!
Active Fusion, in partnership with Doncaster Metropolitan Borough Council, will be delivering Fusion Camps across the borough of Doncaster during the summer holidays.
On the back of the success of the half-term camps that ran in February, April and May, which saw children experience fun, engaging and enriching activities, the education charity is now offering children between the ages of 4-12 the chance to keep physically active and nutritionally educated during the summer holidays.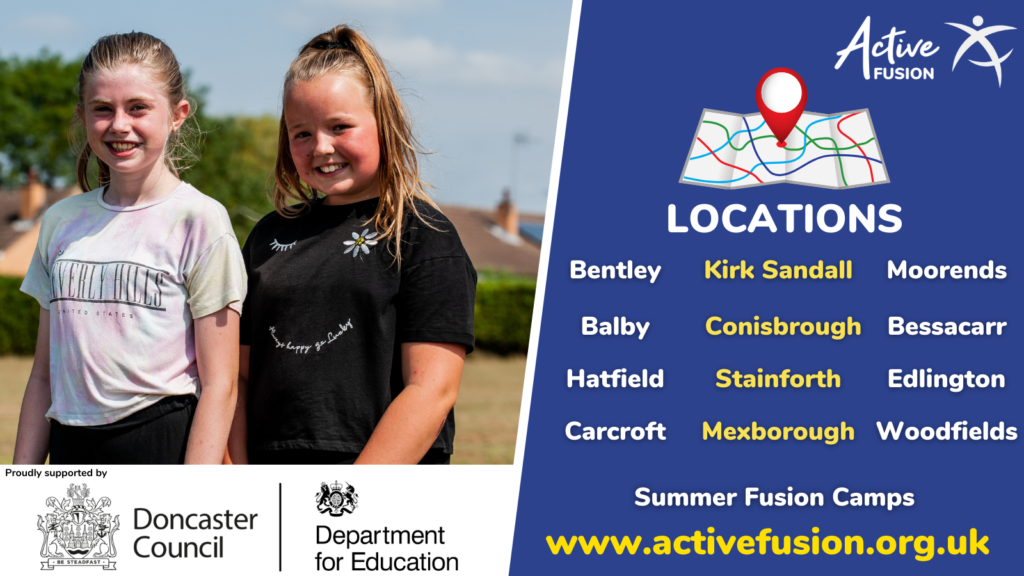 Determined to make holiday camps available all year round, the team at Active Fusion have worked tirelessly to make sure these camps will benefit children in both the short and long term, as we emerge from the pandemic.
Alongside specialist sport and physical activity sessions, children will be able to take part in a host of activities from delivery partners including music organisation 90 Minute Music, award-winning filmmaker Wayne Sables, former World Karate Champion Kat Fewster, Jowanna Bedford (drama), Scotty's Heroes (team building) and Jake Prime (Doncaster Lawn Tennis Club). All will be offering their time to educate, inspire and teach children specialised skills and knowledge.
Due to the efforts of Doncaster Council, Active Fusion have been able to secure funding to run Fusion Camps across the borough during all six weeks of the summer across 12 locations.
The final week of camps will run at the following venues:
Week 6 (23.08.2021 – 27.08.2021)
Woodfield Primary School, 

Woodfields

Conisbrough 

Ivanhoe Primary Academy

Bentley

 High Street Primary School

Edlington 

Victoria Academy

Travis St Lawrence C Of E Primary School, 

Hatfield (Upper School Site)

Carcroft 

Primary School
Please note all camps are now full – if you have booked a place but haven't heard anything you will automatically have been placed on a waiting list. The waiting list will be used if participants fail to take up their places on Monday 23rd August.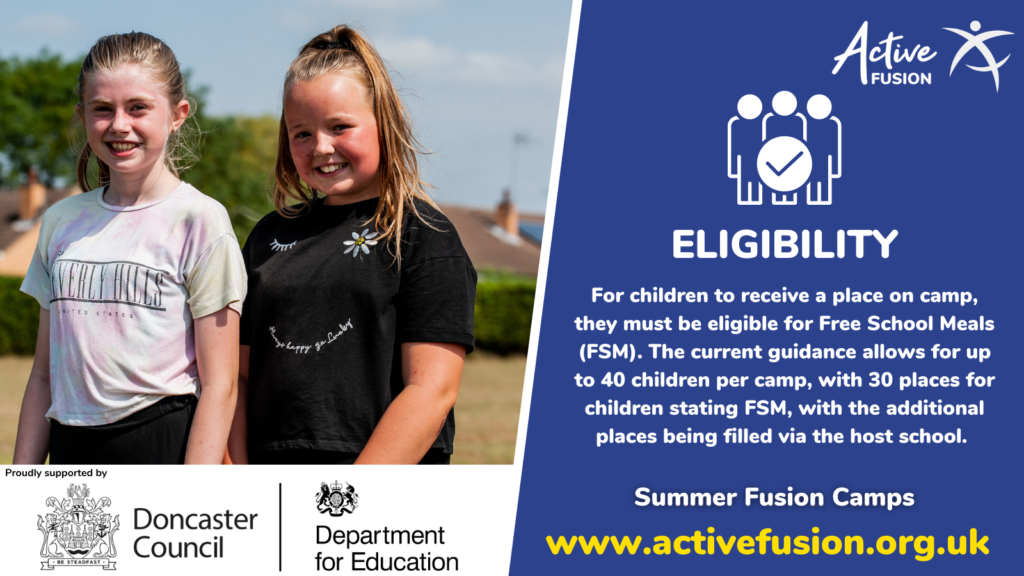 More than just a sports camp
For children to receive a funded place, they must be eligible for Free School Meals (FSM).
To book a place, please click the link on the area you wish your child to attend.
The booking forms are now live, and places will be verified. You will receive a confirmation email outlining all the key information and start times for the camp you have booked, however please be patient as we are dealing with a huge amount of bookings.
Doncaster Metropolitan Borough Council (DMBC) have stipulated as part of the Department for Education (DfE) funding agreement that funded places will be reserved at each venue across the borough for children who have access to free school meals. Children may only attend the camp in their local area, please try to book within your locality, if possible.
Lindsy James, Director at Active Fusion, said: "Fusion Camps still play a crucial role in dealing with the significant decline of young people's physical activity levels and wellbeing.
"Our dedicated team of core coaches focus, not just on fun, physical activities, but also on young people's social, personal, creative and thinking skills.
"We feel fortunate to have the opportunity to build lasting relationships with families in our communities and are grateful for the support of Doncaster Council and Fair Share who enable us to make a positive impact across Doncaster."
As ever, Active Fusion aims to follow current guidance throughout the camps, with coaches continuing to be regularly tested.
Food to be provided 
FareShare Yorkshire will once again provide children with healthy food, snacks and drinks, with each child benefitting from additional resources educating them on how to make their own healthy meals at home with their parents.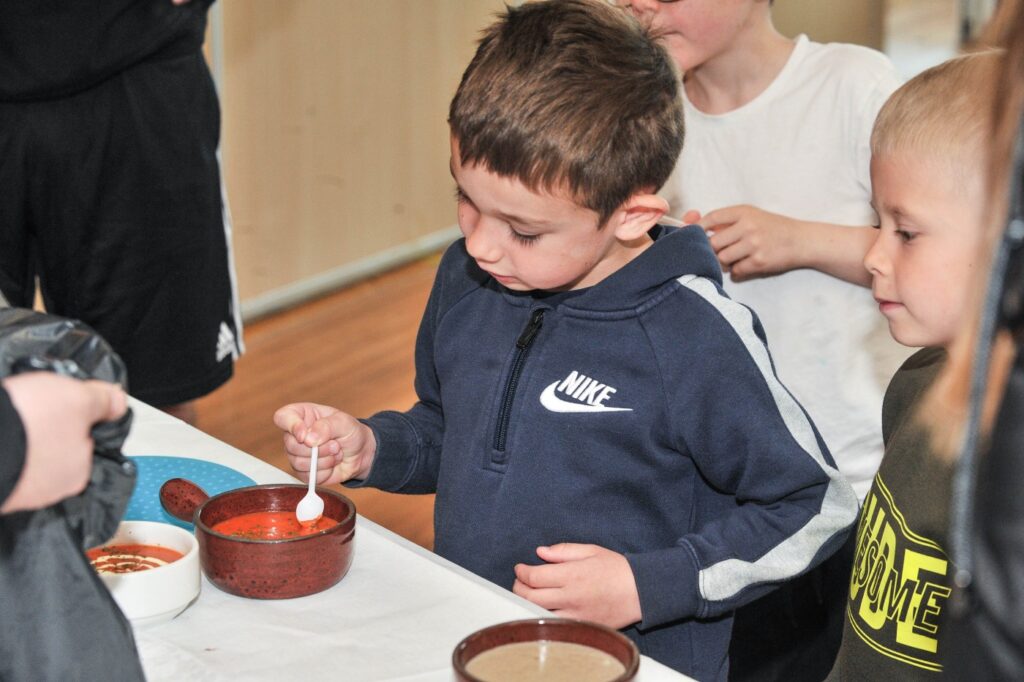 Having redistributed food to over 400 charities, schools and community groups across Yorkshire, Active Fusion are delighted to be teaming up with FareShare Yorkshire to give children, not only an active summer, but a nutritional one too.
The entire team is looking forward to welcoming children and young people across Doncaster to be happy, healthy and active this summer.
For more information on our camps and our policies and procedures, please visit our 
holiday camps page or 
read our parents' guide.